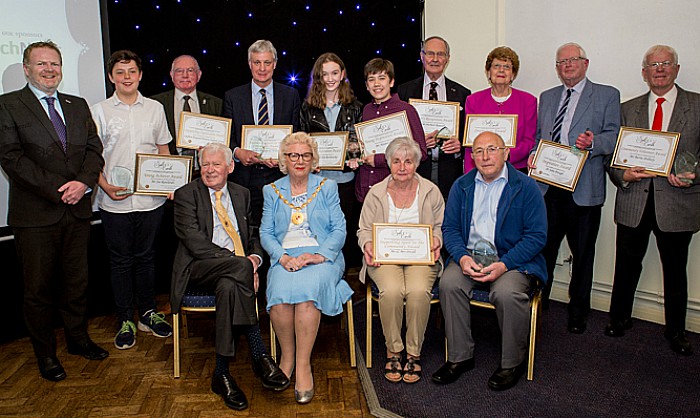 Nantwich Town Council's Mayor Cllr Penny Butterill hosted a civic reception to pay tribute to the winners of the annual Mayor's Salt of the Earth Awards.
The awards, which have been running for four years, saw 11 local heroes honoured for their services to the community.
Awards winners were invited to a ceremony at Nantwich Civic Hall last night (May 3), compered by Chris Radford of The Cat Community Radio.
The unsung heroes who received awards included:
Inspiration Award – sponsored by Nantwich News, Editor Pete Leydon joined the Mayor to present these awards to two people, John Brough and Anne Barnard.
John runs the "A Dabbers Nantwich" website, and maintains five other sites, contributes to local book publications, and gives up much of his own time to Nantwich Players, Nantwich Museum and Nantwich Walled Garden and more.
Anne is out in the community inspiring others to get involved. She has taken on numerous voluntary roles, including fundraising for St Luke's and St Mary's Church and she is a prominent member of the soroptimists. She is chair of Nantwich Choral Society and is still actively involved organising public relations and is a keen ambassador.
Young Achiever Award
13-year-old Joe Rowlands hit the headlines in March for his heroic feat, saving his father when their kayak got into difficulties. The Mayor decided that this truly inspirational achievement, shouldn't go without recognition.
Young Inspiration Award
Awards followed for two more younger members of the community, Adam Coleman and Karolina Rostkowska, for their commitment to pupil mental health at their school.
Supporting Sport In The Community
Mike & Kathleen Povall have delivered Health walks from the Barony Sports Complex for a decade, completing in excess of 420 voluntary hours between them in the last year alone.
Community Volunteer Award
Barrie Astbury, a former teacher in the area, is now associated with all aspects of life at the museum in particular its Education and Town Tours both of which help to fulfil the function of a community museum and support it financially.
Business Support In The Community Award
John Baker and Simon Morgan-Wynne and their team at Baker Wynne and Wilson, for their £25,000 community pledge with over 24 local organisations benefiting from their contribution, which pushed them into the spotlight for an award.
Outstanding Organisation Award
Leighton Hospital Prostate Cancer Support Group hold bi-monthly meetings, social events, and regular PSA testing sessions, with their fundraising activity has provided vital equipment at the hospital. Nantwich representative for the group, Kevin Hammersley, stepped up to receive the award.
Mayor's Recognition Award
Former headmaster of Nantwich and Acton Grammar School, Herbert Rowsell who formed Nantwich Historical Society, and was  a leading light in setting up Nantwich Museum in 1980 and is a member of the board of management and is responsible for one our major dates in the town's calendar – the Battle of Nantwich commemoration.
Cllr Butterill said: "During the past year as Mayor I have attended numerous engagements and met some truly inspirational people.
"It is a great honour to have been able to host these awards and acknowledge just some of the hard work and dedication of individuals of this town.
"I would like to take this opportunity to say how proud I am of you all.
"I would also like to thank all the town's volunteers and those who spend many hours making our town what it is."
(pics by Nantwich Events Photography)