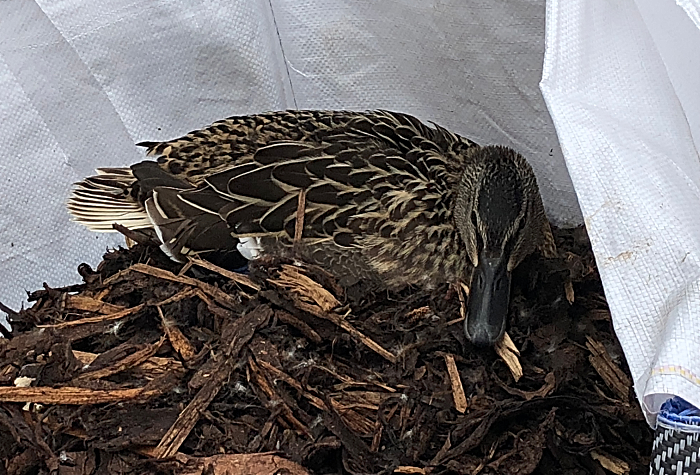 Builders in Nantwich thought they were going barking mad – when they found this duck bedding down in one of their bulk bags!
Staff at TG Builders on Beam Heath Way found themselves in a flap when they discovered the creature nesting in the bag of bark.
But assistant manager Stephanie Corbett didn't duck her responsibility, and quickly cordoned off the area so it would not be disturbed or frightened.
The duck, named Quacker Jack by staff, has since had one duckling, and soon became stars of the store as customers call in to take a peek.
Stephanie said: "I couldn't believe it when I found her all settled and cosy in the corner of the bag.
"She must have thought she'd found the perfect nest already made and waiting for her.
"We cordoned off the area of the display where the bag was situated so that the duck and her baby were safe and wouldn't be disturbed.
"It's so lovely to see them, and our customers have been thoroughly charmed by them."
Now the happy family have waddled off to pastures new.
And it's not the first time the Nantwich builders' merchants have had animal visitors.
Last year there was a squirrel on site and a cat wandered into the shop!
"There have been other ducks visiting, but none that have stayed around for so long!" added Stephanie.