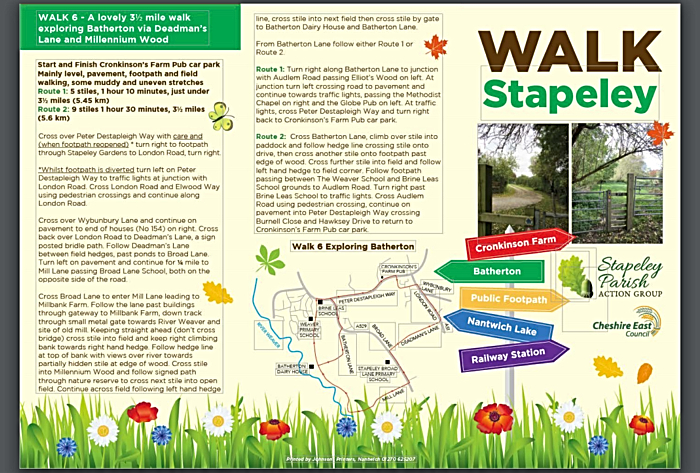 Stapeley Action Group has designed and launched a new Walk Stapeley guide to help families explore the parish!
The new leaflet – available online – contains seven walks all starting from the Cronkinson Farm pub car park.
They range from a gentle meander of under a mile round the Cronkinson Farm estate, to more strenuous walks encompassing Nantwich lake and beyond to Batherton and Willaston.
The action group, part of Stapeley and District Parish Council, say it doesn't matter whether you can't walk far or you want to test yourself, there's something for everybody, however mobile.
You can pick up a leaflet at the Cronkinson Farm Pub, Cheerbrook Farm Shop, Stapeley Co-op and Stapeley House Café.
It's also available at several places in Nantwich, including the Information Centre at the Civic Hall.
You can also see a copy on Stapeley and Batherton Parish noticeboard next to the Community Hall.
It is available to download from Stapeley and District Parish Council's website http://www.stapeleyparishcouncil.gov.uk/documents/other/Walk%20Stapeley.pdf
The action group is also planning to stage community walks.
And plans are already underway for a second leaflet containing longer walks, starting and finishing at Stapeley House Café.