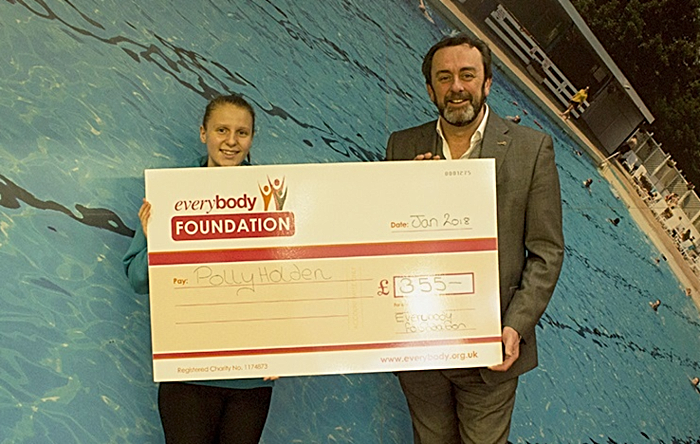 A teenage swimming sensation from Nantwich has secured funding to help her on the path to 2020 Olympics in Tokyo.
Polly Holden, 18, from Stapeley, was awarded £355 from the Everybody Foundation to fund her entry to the British Championships in Edinburgh where she won bronze in the 800m freestyle.
That means she has qualified for the British Nationals in July as third ranked swimmer in the country, and a great chance of qualifying for the 2020 Olympics.
Polly said: "I found out about the Everybody Foundation grants through the Everybody Talented Athlete Support Scheme.
"I have been supported by the programme with a membership to use Nantwich Swimming Pool and Gym for training as well as physio and nutrional workshops and was excited at the prospect to compete in Edinburgh if awarded the funding grant.
"It was an amazing experience and the main event of my season this year.
"The 800m is my best event and I was ahead of the competition by 15 seconds; even Rebecca Adlington commented on my performance!
"I got to meet so many inspirational coaches and swimmers which has given me the push to work hard to get to Tokyo in 2020."
The Everybody Foundation is a new charity which helps to fund individuals and groups who promote active and healthy lifestyles in Cheshire East.
Organisations and individuals applied in January 2018 to receive up to £500 to help deliver projects that encourage people to be active and healthy and achieve personal goals in sport.
Eight were successful and have used the grants to deliver healthy eating programmes in schools, reach national and international sporting trials and purchase new sporting equipment.
Peter Hartwell, Chairman of Everybody Foundation, said: "It was a pleasure to meet Polly and very exciting to hear that she achieved a senior medal in Edinburgh.
"We will continue to follow her progress and support her training for the Tokyo 2020 Olympics.
"We would not be able to award these grants without the support of our fundraisers and kind donations, so thank you to everyone who has supported the Everybody Foundation.
"We will be opening a new round of grants in August 2018!"
The Everybody Foundation is looking for volunteers to join a fundraising committee to help co-ordinate fundraising events.
Email [email protected] and visit www.everybody.org.uk/everybodyfoundation for more information.
(Pic above: Peter Hartwell presents Polly Holden with £355 funding grant at Nantwich Swimming Pool)