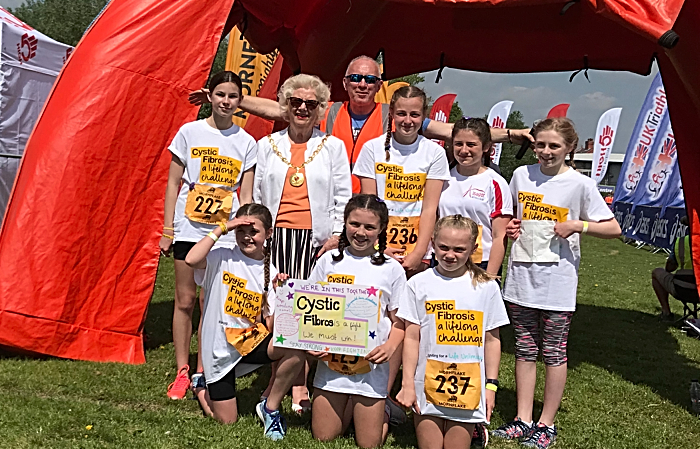 A group of Brine Leas girls called Elle's Stars, have raised more than £1,200 from their exploits in the Nantwich Duathlon.
Competing in memory of their friend Elle Morris, who died earlier this year, they completed the Kids FUN Duathlon at Barony Park in aid of Cystic Fibrosis Trust.
Elle, 11, died in January just a few months after undergoing a double lung transplant.
Elle's Stars were among 400 youngsters aged 5 to 16 years to take part.
The 'run – bike – run' event took place on grass and saw the youngest run 100m followed by a 750m cycle and finishing with a 300m run to cross the finish line and receive the all-important finishers medal for their efforts.
Elle's Stars – Millie, Isla, Grace, Jess, Mia, Hannah and Libby – lined up to prepare for their 500m run, 4km cycle and 2000m run and despite the nerves kicking in they were not going to falter.
They all completed the course and crossed the finish line to receive well-earned medals from Nantwich Mayor, Cllr Penny Butterill.
The girls have managed to raise over £1,200 for the Cystic Fibrosis Trust and are already talking about entering the North West Duathlon in September and doing it all again.
The weekend of events, including the main Nantwich Triathlon on the Sunday, will have seen many fundraisers competing for their chosen charity, and many charities up and down the country will benefit from the thousands of pounds raised.
For more information, results and race photographs visit www.uktriathlon.co.uk or call 01270 842800