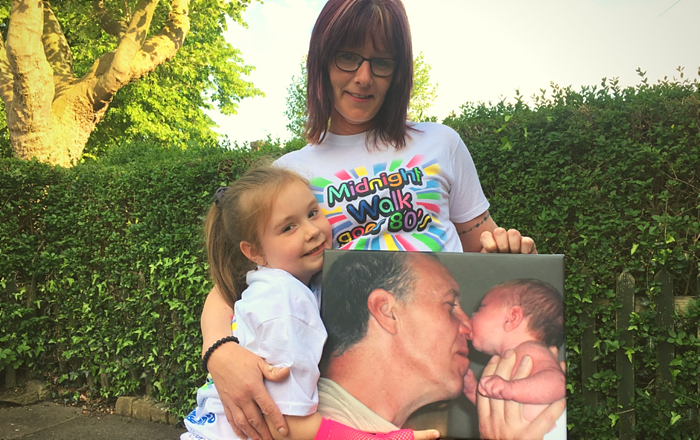 A six year old girl is taking part in her first Nantwich to Crewe Midnight Walk for St Luke's Hospice in memory of her dad who died when she was just three.
Phoebe Anslow will join her mum Sharon for the sponsored walk to raise money so that others can receive the vital care her dad Duncan did in the last three weeks of his life at the Hospice.
Duncan was just 53 when he died after being diagnosed with widespread cancer just eight weeks previously.
During his time at the hospice, he proposed to Sharon and they got married at St Luke's just eight days before his death, in a ceremony watched by Phoebe and Sharon's older children.
Sharon, from Crewe, said: "I've explained to Phoebe that we're doing the Midnight Walk because St Luke's looked after her daddy so wonderfully, they looked after all of us in fact.
"And we're raising money so the nurses can look after someone else who is poorly and their family.
"I can't tell you how amazing the nurses were.
"They made all of us feel so welcome at the hospice, I never felt like I shouldn't be there.
"It's all the tiny things they did. They made sure that I was eating, and they got to know me personally so that it felt as good as being at home really.
"They listened to me as much as they listened to Duncan.
"I spent many times crying with the nurses because I just couldn't make sense of what was happening."
Sharon, who works at the Pickmere at Rose Terrace Extra Care Scheme in Crewe, has done the Midnight Walk twice and involved residents and staff there in her fundraising.
They've taken part in many of St Luke's community fundraisers including 'Go Red for a Bed' and a Christmas card boycott raising more than £1,000 for the Hospice.
The Pickmere Knit and Natter group have also knitted hearts for St Luke's to sell.
Sharon said: "The residents and staff are amazing support and my main sponsors every time I do something for St Luke's.
"I can't thank them enough for their ongoing support."
Sharon will walk the 'half moon' with Phoebe in the event on June 30, which is six miles, and has already raised £350 of her £500 sponsorship target.
Now Sharon and Phoebe, who goes to Pebble Brook Primary School, are urging other women and girls to join them on the Midnight Walk.
Sharon said: "The atmosphere is brilliant and when you start walking and see a whole sea of women doing the same thing it is incredible.
"The thing that struck me when I did it the first time was that you'd think doing it at midnight no one would be about, but the amount of people who stay up and come out to the front of their house to wish you well on the way is amazing.
"I was really moved by that. It's just so nice to be part of something that is so enjoyable and fun.
"So many people have a connection to St Luke's somehow.
"If my only way of putting a positive into losing Duncan is to raise money so St Luke's can help others, then that's enough for me."
St Luke's Midnight Walk is either a 13-mile or six-mile 'half moon' walk around the streets of Crewe and Nantwich.
It is St Luke's biggest fundraiser of the year, raising around £175,000.
Debra Sloan, event fundraiser at St Luke's, said: "I have been so touched by Sharon and Phoebe's fundraising efforts, they've really brought tears to my eyes, and their story highlights why we do fundraising events like this.
"The fact they are raising money to fund care at St Luke's for other local families, in Duncan's memory, is so inspiring.
"Every single woman and girl who signs up to take part in the Midnight Walk will make a difference to someone being cared for here at the Hospice.
"We need as many ladies as possible to walk together in support of St Luke's. Please join us!"
For more information and to register for the Midnight Walk, visit https://www.stlukes-hospice.co.uk/midnightwalk
To sponsor Sharon and Phoebe, visit https://www.justgiving.com/fundraising/sharon-anslow4