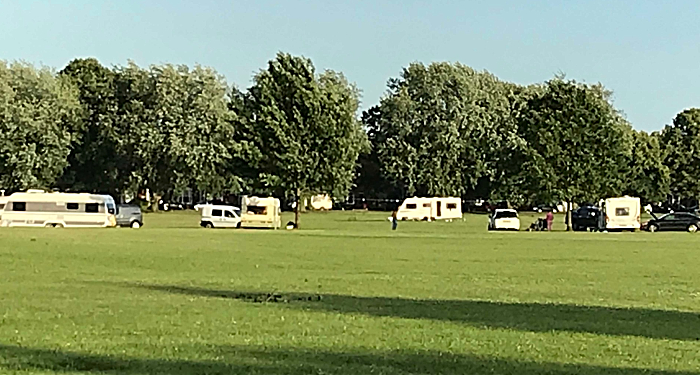 Council officials are back at magistrates court today in a further bid to evict travellers from their illegal encampments in Nantwich.
A number of travelling families set up camp on Barony Park and nearby Volunteer Fields a week ago.
And despite Cheshire East Council's Section 77 court order to have them removed last Thursday, they have remained on site.
Now sources say travellers did not comply with last week's court order due to illness.
Enforcement officers from the council are due to serve a second order on the families later today or tomorrow, if it is granted by magistrates.
It comes amid growing reports on social media of anti-social behaviour and a rise in police call-outs to incidents in the town and on Barony Park.
Over the past 12 months, council officers, town councillors, police and residents' groups have met to discuss the ongoing problem of illegal traveller encampments in Nantwich.
A Cheshire East Council spokesperson said: "The council is in the process of pursuing legal action to remove travellers from Barony Park and Volunteer Field.
"It is correct that meetings have taken place with local community groups, residents, police and councillors last year and a number of ideas came out of these meetings, exploring how best to prevent unauthorised access.
"The council did explore these options and shared the findings with community leaders last year at the Civic Hall.
"It was found that due to the open aspect of Barony Park on all sides, these options were both financially unviable and, more importantly, would severely impact on the usual public access and amenity functions of the park.
"The council will continue to engage with local residents and community groups and will act swiftly to deal with unauthorised encampments, while continuing to pursue alternative solutions."
Nantwich Police stated on Twitter: "With regards to the unauthorised encampments on Barony Park and Volunteer fields, @CheshireEast council have a court hearing this afternoon to progress the matter."
Cheshire Police can use powers under Section 61 of the Criminal Justice and Public Order Act 1994 to arrest travellers and impound vehicles of those who do not leave land when ordered to do so.
But a spokesman said this would only be used if the travellers were camped on private land, not on public council-owned land such as Barony Park.