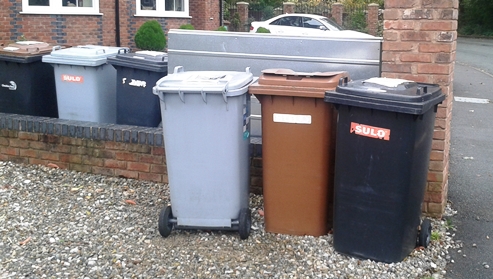 Councillors are urging Cheshire East Council not to go ahead with unpopular plans to charge up to £35 for replacement wheelie bins.
The local authority revealed plans to introduce charges for new and replacement bins in its budget for 2018-19.
It hopes to save as much as £360,000 a year under the proposal.
But just 34% of the 1,895 residents who responded to a consultation agree with the policy.
And now members of the council's environment and regeneration overview and scrutiny committee have recommended replacement bins should remain free.
Cllr Sarah Pochin, Conservative member for Willaston and Rope, suggested the committee should not support the charge considering the strength of public opinion.
Cllr Pochin (pictured) said: "It would appear from the consultation, unsurprisingly, nobody agrees that we should be paying for our bins.
"The majority agree that it should come out of our council tax.
"I personally think the provision of a bin is an absolutely basic, fundamental thing that CEC or any other council should be providing to a household."
Cheshire East wants to introduce a £35 charge for black residual waste bins, a £30 charge for recycling and garden waste bins and a £25 charge for smaller bins.
Results from the consultation, which took place from March 13 to May 21, show the proposal is most unpopular among residents in Crewe and Nantwich – with just 26% of respondents supporting it.
In Haslington, 29% of residents supported the move, while 30% approved it in Sandbach and 33% in Middlewich.
Cllr Nick Mannion, Labour CEC member for Macclesfield West and Ivy, said the policy would hit residents in more deprived areas the hardest.
He said: "I was at a meeting, at a primary school where I'm the chairman of governors, about how we are going to provide a Foodbank during the summer so the kids who get free school meals are going to get fed.
"People are just not going to have a bin, and what you are going to have is people pinching other people's bins or dumping rubbish in other people's bins.
"The reality is if it's a choice between feeding the kids, paying the electricity or buying a new bin because it has disappeared for whatever reason, I know what's not going to get done."
The council claims it is currently supplying 10,000 new or replacement bins a year free-of-charge, at a total cost of £360,000.
As part of the plans, CEC says it could include the address of the property each bin belongs to, in a bid to deter thefts – while a 25% discount to residents who receive benefits would also be offered.
Cllr Don Stockton, Conservative CEC member for Wilmslow Lacey Green and cabinet member for the environment, is set to make the final decision on whether or not to introduce the charge.
He reminded the committee that the council already agreed to the charge in principal by approving this year's budget – and suggested that CEC would not be alone in charging residents for bins.
"It's a major cost for this council in terms of replacing bins that just go missing or get destroyed," Cllr Stockton said.
"A lot of our neighbours charge for bins. This is by no means unique at all.
"Halton charges £27.50 for a bin, Manchester £20 for a bin, Stockport varies, High Peak £30 for a bin, Staffordshire Moorlands £30 a bin."
Cllr Pochin's proposal to recommend charges are not introduced for replacement bins was approved by the committee by eight to three.