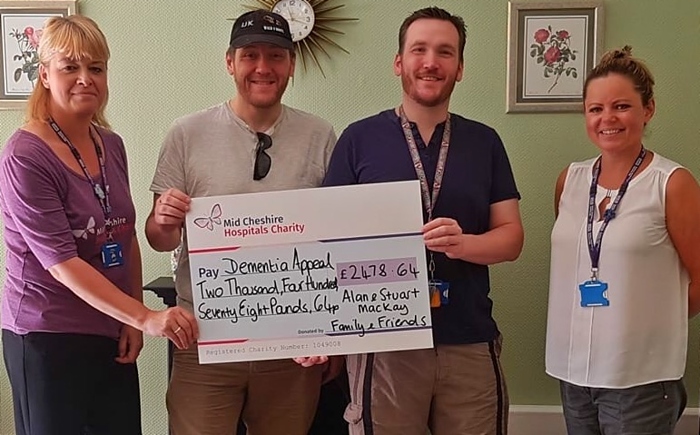 South Cheshire brothers Stuart and Alan Mackay walked from Edinburgh to Leighton Hospital to raise money for Mid Cheshire Hospitals 'Everybody Knows Somebody' dementia appeal.
Stuart and Alan, both from Crewe, have been long distance walking for four years.
Starting in 2014 with an idea to walk The West Highland Way, they have pushed themselves every year to continue to the very top of the country.
Then they decided to go back to the beginning and walk the other way.
Their 'Walk N Boots' challenge took place in April over three weeks and covered more than 400 miles.
They exceeded their original target of £1,000 with a final total raised of £2478.64.
Alan Mackay, who also works at Leighton Hospital, said: "We would like to thank everyone who supported us with our grand adventure and we are delighted to exceed our target."
Carole Salmon, Community Fundraiser for Mid Cheshire Hospitals Charity, added: "A massive well done to Stuart and Alan.
"Their drive and enthusiasm for their fundraising has been inspirational. The donated money will benefit our Dementia Appeal so big thanks to all involved."
To find out more about Mid Cheshire Hospitals Charity dementia appeal and how you can be involved, contact Carole Salmon, Community Fundraiser on 01270 273248.
(Pic L to R: Carole Salmon, Stuart Mackay, Alan Mackay & Emma Robertson, MCH charity manager)