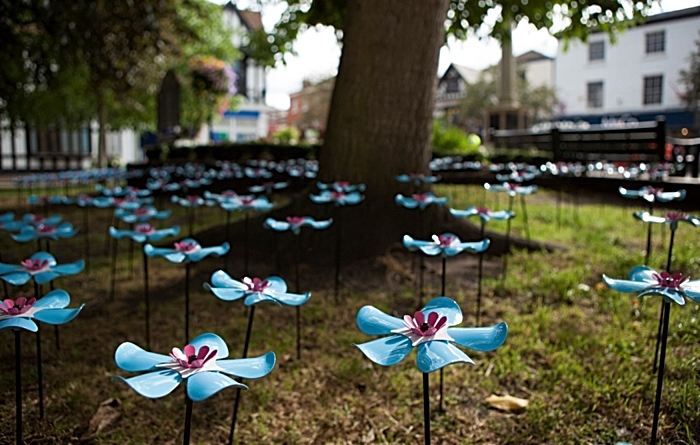 Hundreds of Forget Me Not flowers planted in memory of someone loved and missed, have gone on display in Nantwich.
The arrangement of forever flowers has taken pride of place on the lawn opposite St Mary's Church in the town square.
The display is part of St Luke's Hospice 30th anniversary celebrations.
More than 600 Forget Me Nots form the display in Nantwich, each one dedicated by a member of the community in memory of a loved one.
Amy Magee, campaign and donor development manager at St Luke's Hospice, said: "We have been truly overwhelmed by the community's response to our Forget Me Not campaign.
"It's a beautiful way to remember a loved one and the display looks stunning.
"Once the display comes to an end, each person who has dedicated a Forget Me Not will be able to collect their flower from the Hospice.
"Their Forget Me Not can then sit in their garden as a lasting tribute for years to come.
"The donations we have received for the Forget Me Nots will enable St Luke's to support many other people in this very special anniversary year for the Hospice.
"Thank you to everyone who has supported this display, we hope you enjoy it."
Each Forget Me Not has been custom made by the British Ironwork Centre and stands 43cm high.
The display in Nantwich, and a second display at the Danebridge Memorial in Northwich, can be seen until Sunday September 2.
St Luke's still has a limited number of Forget Me Nots available.
To dedicate a Forget Me Not in memory of your loved one, complete the online donation form https://www.stlukes-hospice.co.uk/forgetmenot/
Any dedications received over the next two weeks will be added to the displays.