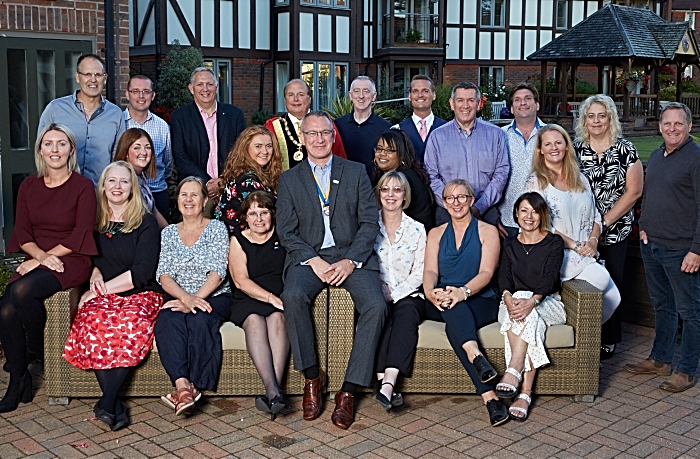 The Rotary Club of Wych-Malbank has formally formed as the fifth Rotary Club for Crewe and Nantwich.
It follows in the footsteps of the Bentley Club which began in 2016, and is known as a Satellite Club.
Wych-Malbank takes on a different look to the older and more traditional clubs of the area.
It meets for just one hour on a Wednesdays at 7.30am three times a month, and once a month at 5.30pm.
The new club is £10 a month subscription and refreshments are provided by Richmond Village in Nantwich, the venue host.
The club formerly "Chartered" on September 5 with 24 members, 12 men and 12 women, all business owners or residents of the area.
Their shared goal is to serve the community and raise money for charity while also networking and having fun.
The charter ceremony was performed by District Governor Steve Martin and past District Governor Beryl Cotton at an event attended by the Mayor of Nantwich Cllr David Marren and more than 50 guests.
The new club has received a donation of more than £1,000 in recognition of work it has done in conjunction with its sponsor Nantwich Rotary club with another £2,700 on the way.
Planned events include a wine tasting evening which is sold out and a plastic recycling project for Nantwich.
Steve Martin said: "I am very impressed with the enthusiasm and drive that the new club has shown in getting started in such a dynamic and fast way and am impressed and encouraged by the calibre of the new members."
Mayor Cllr Marren added: "Rotary brings together local working people who are passionate about fundraising, as well as having some fun and this is very much a good thing.
"Rotarians tend to be successful talented people who do good work because it is the right thing to do. Successful people helping those less fortunate, irrespective of religion and politics.
"The creation of this Rotary Club in Nantwich is to be commended and evidences that Nantwich residents have great community spirit and capacity for helping others."
To find out more about joining or attending as a guest, contact Club Secretary Tim Bowker on 01270 589807.
Wych-Nantwich Rotary is part of Rotary International and is currently applying to become a registered charity in their own right.
(Pic: new members of the Wych-Malbank Rotary Club. Photo courtesy of Studio One Photography)