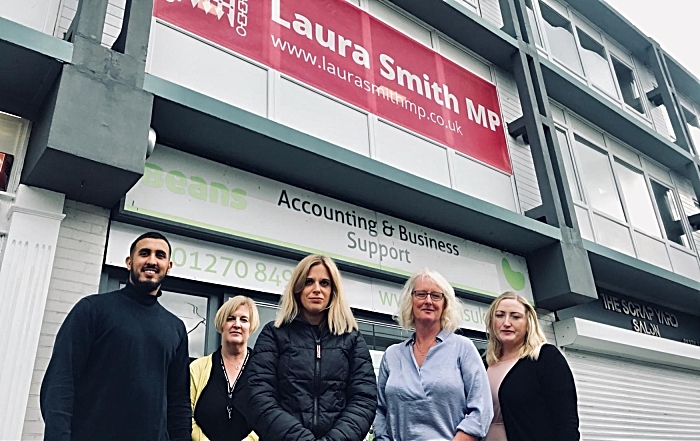 MP Laura Smith's constituency office has become an official Referral Unit for Nantwich Foodbank.
The charity fears more residents will have to be referred to the foodbank ahead of plans for the next stage of Universal Credit.
The next stage of Universal Credit, which Ministers have now delayed because of roll out problems, will see three million people having to reapply for their tax credits and benefits.
It's feared delays to applications resulting in a gap between payments could lead to a big increase in people needing the foodbank.
Laura Smith said: "I spend much of my time meeting local people who are in the most desperate of situations and often struggling with very real hardship.
"I've made the decision for my Constituency Office to become an official referral point for the Foodbank, so that we can offer practical support more immediately.
"Foodbanks in Crewe & Nantwich offer emergency food and support to protect local people from having to go without basic essentials.
"The design of Universal Credit, is deeply flawed and has been disastrously mismanaged."
Until now, only people making a new application for benefits have gone onto the new Universal Credit benefits system.
The next stage is to move people already receiving a benefits or tax credits under the old system on to the new Universal Credit.
Foodbanks in areas where people have been making new benefits applications to Universal Credit for at least 12 months have seen a 52% rise in foodbank use, compared to 13% in areas that have had the system for less than three months.
Following the rollout of Universal Credit in Nantwich, the foodbank has had to provide emergency food and support to people needing help due to the five-week minimum wait for a first payment.
Jane Emery, Foodbank Manager of Nantwich Foodbank, said: "No charity can replace the dignity of people having enough money for essentials – that's why our benefits system was created to protect people from ever needing help from a charity for basics like food.
"We want to see a Universal Credit system that continues this legacy and protects people in CW5 from needing our foodbank.
"We're worried that if there are not any changes to the Government's plans for the next stage of Universal Credit, we could see a big increase in local people needing our help.
"But it doesn't have to be like this. It is common sense to learn lessons from what foodbanks have already seen when Universal Credit is rolled out.
"We need the Government to ensure no one if left with a gap in their income, put proper support in place and build a schedule so there's time set aside if any changes need to be made.
"We're a country that prides itself on making sure support is in place for each other whenever help is needed, so let's make sure Universal Credit is ready to anchor people for being swept into poverty."
(Pic: Laura Smith MP with Jane Emery and her staff after signing to be a Referral Unit for the foodbank)