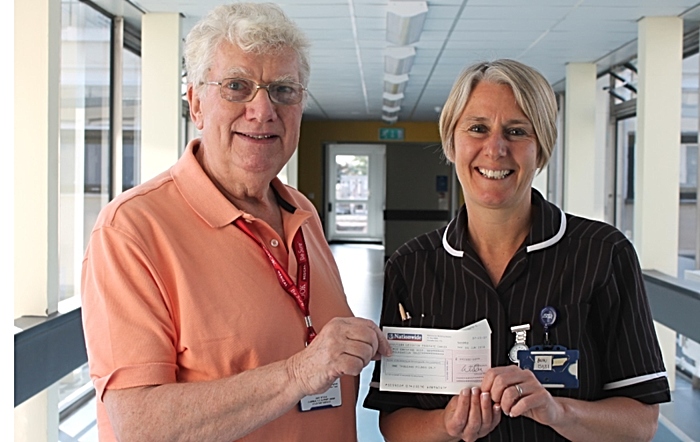 Bosses at Leighton Hospital have unveiled a plaque to celebrate the founder and chairman of its prostate cancer support group.
Gary Steele MBE was diagnosed with prostate cancer in 1999 and went on to found the Leighton Hospital Prostate Cancer Support Group in 2000.
Since then the group has helped test hundreds of men over the last 18 years.
As chairman, Gary dedicated his time to promote awareness of prostate cancer – the most common cancer in men in the UK.
He also set up drop-in centres and testing sessions and fundraised for vital equipment and research.
Gary, who stepped down from the support group in 2017, died on November 24 last year following his own battle with the disease.
Mid Cheshire Hospitals NHS Foundation Trust, whose patients have benefited from Gary's years of fundraising and campaigning, has now celebrated his work with a plaque in Leighton Hospital's main entrance.
The plaque was officially revealed by Gary's colleague, Win Bond, among an audience of his family, friends and supporters.
Win said: "It's an honour and a privilege for me to be unveiling this commemorative plaque for a very special person. He's gone but not forgotten and he will always be in our hearts and minds. Gary Steele MBE – a legend."
The plaque houses the MBE that Gary was awarded in the Queen's Birthday Honours List in 2012, as well as a photograph of Prince Charles presenting Gary with the award.
Dennis Dunn, chairman of Mid Cheshire Hospitals, said: "It's just a small recognition of his tireless work, which has touched countless lives and will continue to do so through the many donations of equipment that he made to the hospital.
"We would also like to thank Gary's family for giving us their blessing to display his MBE and helping us to celebrate his achievements with our patients, staff and visitors."
Tracy Bullock, Chief Executive of Mid Cheshire Hospitals, added: "Over the years Gary has made many friends at Mid Cheshire Hospitals and he will be greatly missed.
"Gary worked tirelessly to raise money for the hospital and his efforts have enabled us to buy equipment and many other items that have made a huge difference to the experience of our patients and will continue to do so.
"We will always be extremely grateful for Gary's time, passion and friendship and on behalf of our staff and patients, who have benefitted from Gary's regular and generous donations, we would like to say a very special thank you."
The Leighton Hospital Prostate Cancer Support Group holds bi-monthly meetings at Leighton Hospital and offers support and advice to men, as well as their families, who have been diagnosed with prostate cancer.
For further information on the support group visit www.prostateleighton.org.uk
(Pics: Gary presenting cheque to Dignity Matron Phil Pordes in August 2016; and Win Bond unveiling Gary Steele plaque)