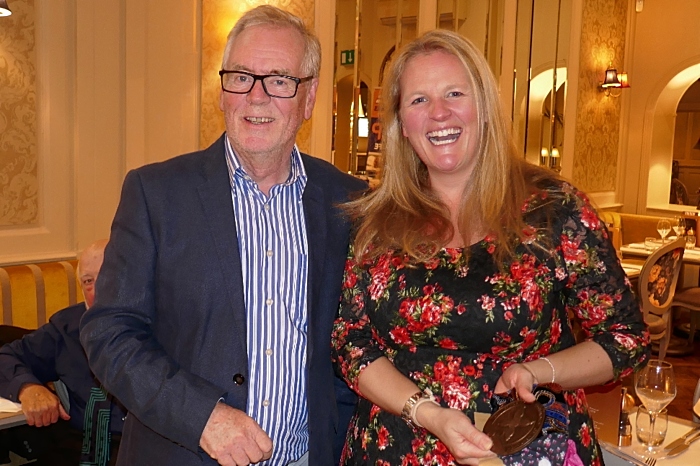 Redshift Radio founder Liz Parkin has been awarded the Dutton Prize by Nantwich Musuem for her work in the community.
Museum friends and volunteers witnessed the award made at the annual dinner at Residence restaurant in Nantwich.
Chair of the Museum Board Nick Dyer presented the Walter and Ada Dutton Prize to Liz, well known in the town for her work with RedShift, based on Regents Park off London Road.
Nick said: "There are many aspects of town life to which Liz has contributed, including the Nantwich Show, Holly Holy Day event, organisation of the Big Day Out, VE Day Celebrations, the Doggy Day Out …the list goes on.
"Of particular note was the work done by Liz to promote charities and businesses through broadcast, networking and social media."
The Dutton Prize, which includes a medal, was endowed by medal-maker Ron Dutton in memory of his parents Alderman and Mrs Dutton.
The medal features an image of the church as a symbol of the town and its community.
Each year since 1990, the Museum Board has nominated for the prize unsung heroes regarded as making an extraordinary contribution to the life of the town.
The evening ended with a talk by Rodney Cottrell outlining the national and local work of the Royal National Lifeboat Institution.
There was reference to the success of the Audlem Lass, which has carried in aid of RNLI funds more than 5,000 passengers and 400 dogs on its service between Audlem and Overwater Marina on the Shropshire Union Canal this year.
Contact Nantwich Museum on [email protected] or telephone 01270 627104.
Visit www.nantwichmuseum.org.uk,  https://www.facebook.com/nantwich.museumoffical/ or https://twitter.com/NantwichMuseum