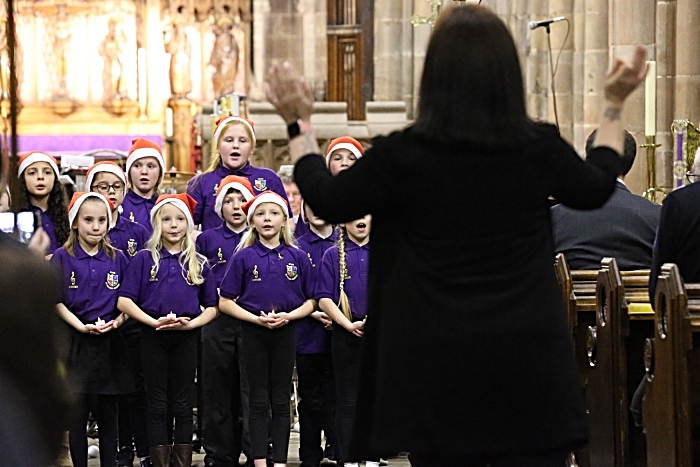 A packed audience enjoyed the live music concert 'Step into Christmas' at St Mary's Church in Nantwich, writes Jonathan White.
The concert featured Crewe Brass, drummers from Cheshire Drums & Bugles, European mezzo soprano Emma Brown, and Acton CE Primary Academy Choir conducted by headteacher Rachael McKinley.
Lydia Price accompanied on piano. Matt Pithers from Crewe Brass was Musical Director and also introduced each piece of music.
The concert featured a mixture of brass band music, vocal scores, carols, and hymns.
It reached a crescendo with a rousing 'We Wish You A Merry Christmas' sung by the choir, Emma Brown and the audience accompanied by Crewe Brass.
Special guests were Mayor of Nantwich Councillor David Marren with Mayoress Belinda Marren, Mayor of Cheshire East Borough Councillor Lesley Smetham and her Consort David Smetham, and Rotary Club of Crewe President Neil Fearn.
Proceeds will be split between Crewe Brass and St Mary's Church, Nantwich with a donation to Acton CE Primary Academy.
For further information relating to Crewe Brass search Crewe Brass on Facebook, visit http://crewebrass.co.uk/ or email [email protected]
For information relating to Christmas Services & Events at St Mary's, Nantwich visit http://stmarysnantwich.org.uk/
Concert organiser Robert Richardson said: "I couldn't be prouder and be more grateful to the band, the drummers from Cheshire Drums & Bugles, the children from Acton, Lydia Price and of course the wonderful Emma Brown, who flew in from Holland especially for this concert.
"Everything came together like clockwork and has given everyone who attended a fantastic start to the holiday season."
(words and pics by Jonathan White)