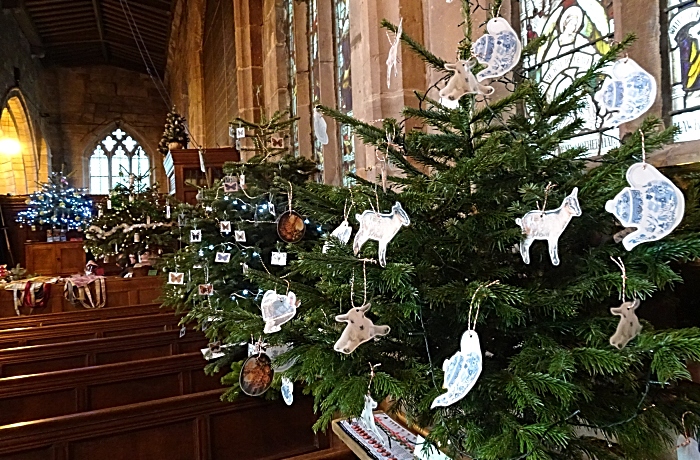 Visitors to Acton were wowed by a three-day "Christmas Festival" at the village's St Mary's Church, writes Jonathan White.
The opening day featured a guest appearance from Father Christmas and a Christmas medley performance by Acton CE Primary Academy choir in the afternoon, followed by a Christmas music concert with TheFunkyChoir.com
There was a chance to see Christmas trees, festive wreaths and garlands that beautifully bedecked the church and enjoy yuletide refreshments, along with an opportunity to meet Father Christmas on Saturday.
The 28 Christmas trees have been sponsored and decorated by parishioners, local societies, and local businesses for the third consecutive year.
Two of the Christmas trees are made out of alternative materials: a slate tree from Emerton Roofing, and a metal tree from Harbrook Engineering.
For the first-time there was also a display of fifty wreaths and garlands, all handmade by parishioners, with different materials including holly, pine cones, berries, lights, feathers, wool, buttons, drinking straws, and even a tractor tyre!
A large nativity scene was produced by the church's flower arranger, Deanna Emerton.
There was also a prize raffle, a stall selling items made by parishioners and light refreshments.
The trees, wreaths and garlands will be on display in the church until Thursday December 27 and can be viewed during the 'Tea at the Tower' café refreshments that are available every Sunday afternoon (2.30-4.30pm) throughout the year.
The final day, Sunday, started with Communion and Morning Prayer, followed by Tea at the Tower in the afternoon, and finished with evening prayer.
Future Christmas services at St Mary's Church, Acton include:
Sunday 16th December – 10am Messy Nativity
Monday 17th December – 10:15am Malbank Sixth Form Carol Service
Sunday 23rd December – 5pm Carol Service (with refreshments and mince pies BEFORE the service)
Monday 24th December, Christmas Eve – 5pm Crib Service (collection to The Children's Society); 11.30pm Midnight Communion.
Tuesday 25th December, Christmas Day – 11am Holy Communion.
For further information relating to St Mary's Church, Acton please visit http://www.stmarysacton.com/
(All images by Jonathan White)