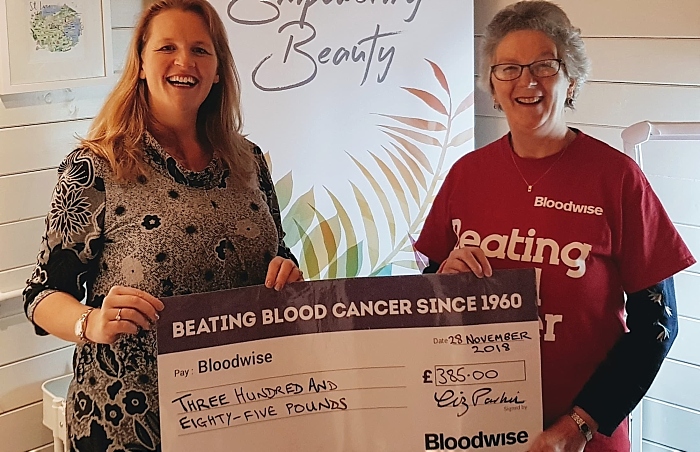 A Nantwich businesswoman has donated £385 to leukaemia charity Bloodwise.
Liz Parkin from Bluebell Beauty has presented the cheque to Liz and Mike Boffey, South Cheshire representatives of Bloodwise.
It follows the leukaemia diagnosis of one Liz's best friends Steph Thompson who is responding extremely well to treatment.
Liz said: "Before Steph was diagnosed I knew very little about leukaemia and blood cancer.
"We have all been really impressed with how quickly Steph was diagnosed and the amazing strength and resilience she has shown over the last six months.
"I thought the launch of my new treatment room would be a good opportunity to raise awareness and a little bit of money for Bloodwise."
The money was raised by Liz at the launch of her new business as an ambassador of  Tropic Skincare products.
The Tropic Skincare  company was founded by finalist of BBC TV series "The Apprentice" Susie Ma with the support of Lord Alan Sugar.
Liz & Mike Boffey said: "We wish to thank Liz Parkin for the generous donation of £385.
"It's heartening to hear of Steph receiving such great treatment for her leukaemia and we wish her well.
"All monies raised go directly into all blood cancer research and we are indebted to Liz for supporting us in this way."
For further information relating to Bloodwise South Cheshire, contact Liz Boffey 01948 871250, email [email protected] or visit http://bloodwise.org.uk