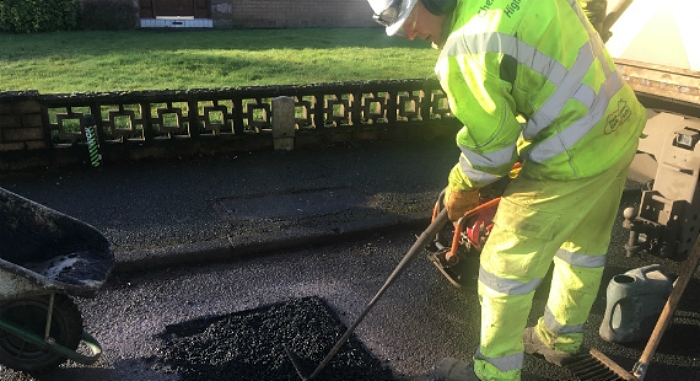 Action is being demanded to fill Cheshire East's potholes after councillors complained that patched up roads are breaking back up, writes Stephen Topping.
Cllr Mick Warren, independent member for Macclesfield East, told Thursday's full council meeting that two potholes in his ward have broken back up just three weeks after they were repaired.
And Cllr Jonathan Parry, Labour member of Middlewich Town Council, also hit out at "extremely substandard" repairs that are failing to stand the test of time.
"One particularly bad pothole outside the Thai restaurant on Booth Lane was repaired very poorly with tarmac just dumped into it and stamped down," he said.
"This repair lasted a matter of hours before the poor repair was churned up and the pothole back to its original state.
"It has since been repaired as a patch repair but was not sealed and doesn't look like it was done to a good standard because it is already breaking up even now.
"Surely these cheap substandard pothole repairs are costing this council far more long-term because they result in more re-repairs having to be done."
Cllr Don Stockton, CEC cabinet member for environment, told Cllr Parry that his department is prioritising an "evidence-led" approach to fixing potholes, and advised residents to report any problems.
But the Conservative member for Wilmslow Lacey Green was challenged again on the matter by Cllr Warren.
He said: "We've already heard today from a resident of Middlewich who is not satisfied with the quality of repairs and neither am I.
"I can provide you with evidence, should you wish, of two reoccurring potholes that I have reported through the CEC website three weeks ago, which were repaired in a timely manner.
"But despite the recent mild weather, as in Middlewich, they are already deep potholes once again."
CEC received an extra £1 million from the Government to fix potholes in March, and a further £4.6 million to spend on roads was announced in the Chancellor's budget in October.
Cllr Stockton said: "Investment of this new capital funding is currently being programmed and is anticipated to include a programme of structural road and footpath patching over the winter season, together with an extension to the current bridge and structures programme."