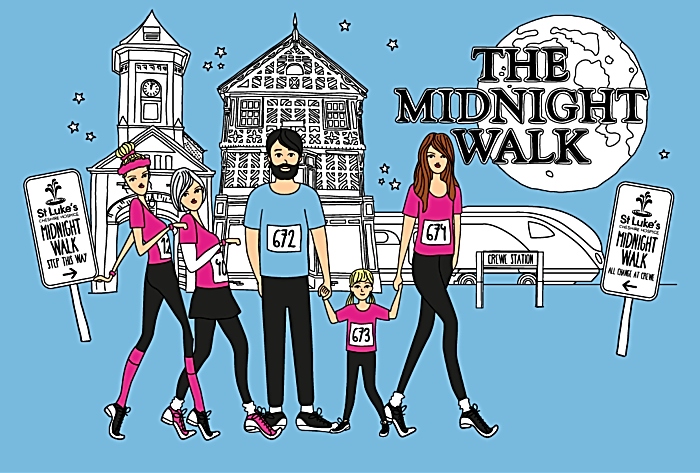 The biggest St Luke's Hospice fundraiser of the year is receiving a New Year makeover – and for the first time will include men!
The "Midnight Walk", which has seen thousands of women taking part in a sponsored walk between Nantwich and Crewe for the past 14 years, will look a little different this year, say organisers.
When it returns in June there will be a shorter distance, a different halfway turnaround point, an earlier starting time, a lower registration price… and for the first time will be open to men!
Debra Sloan, events fundraiser at St Luke's, said: "Every year we are overwhelmed by the generosity and kindness of our loyal supporters who walk with us through the streets of Crewe and Nantwich and have helped raise nearly £2.5 million since the Midnight Walk began.
"We are so excited about the changes to this year's event and hope it will encourage more supporters, in particular families, to walk for St Luke's.
"This year our fundraising target is £140,000 which would fund an incredible 940 nurses shifts on our Inpatient Unit.
"Each shift costs £149 and each hour of nursing care £31, so when you walk and raise money for St Luke's you are helping us to move one step closer to this target."
The Midnight Walk will take place on Saturday June 29, starting as usual from Reaseheath College in Nantwich.
This year, walkers can take part in a six-mile 'mini moon' or a 'full moon' walk, which is just over 10 miles.
The halfway turnaround point will be Crewe Railway Station, and refreshments will be available at the station, as well as toilet facilities and entertainment to boost spirits for the walk back to Reaseheath College.
The Midnight Walk will start earlier at 10pm to encourage more families to take part, and for the first time men will be able to join in too.
St Luke's is also offering its lowest registration fee with an early bird rate of £12.50 for the first 300 walkers to sign up.
The price will then increase to £16, which is still lower than previous years.
Debra added: "Whether you are a seasoned walker or taking part for the first time, the Midnight Walk is empowering, inspiring and an unforgettable way to raise money for St Luke's.
"Whether you are remembering a loved one or walking for those being cared for today, every walker will make a difference."
For more information and to sign up to the Midnight Walk, visit www.stlukes-hospice.co.uk/midnightwalk