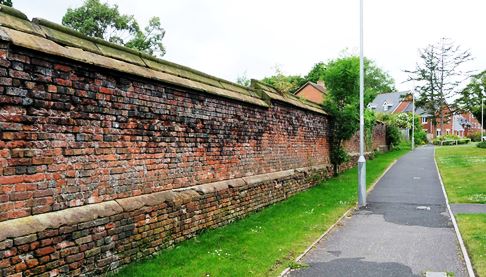 A developer has submitted plans to build six houses next to the site of the historic Walled Garden in Nantwich.
But councillors are calling for conditions on the proposals by 4 Real Developments Ltd to include restoring the listed wall and setting up a fund to maintain the site in future years.
The plan is to build six two-bed homes in a terrace design off Kings Lane, Welsh Row, with a new vehicular and pedestrian access.
The company is seeking planning permission and Listed building consent.
Nantwich Town Council largely backed the proposals as a way of ensuring the Walled Garden's future.
Cllr Arthur Moran said it was a good solution to a long-standing issue on vacant site.
Cllr Peter Groves hailed the work done by the Nantwich Walled Garden Society but said it did not have funds to buy or maintain the site in the future.
Cllr Diana Hall said it was "inevitable" but called for a plaque to be erected on the site in recognition of John Gerard and the historic nature of the garden.
The garden consists of half an acre of land surrounded by a 16th or early 17th Century wall.
The garden was part of the site of Townsend House, which was built with the Wall in the 1580s by the Wilbraham family.
Previous planning applications for the site have been refused as applicants have been unable to demonstrate who owns the Walls, as well as the impact a development could have on the "spatial quality, historic function and appearance of the garden".
The new proposal has been submitted after consultation with Historic England and Cheshire East Council's Conservation Officer.
The overall length of the built form is reduced to half the length of the wall, and garden space is publicly accessible.
Twelve car parking spaces are also proposed.
A rarely used "Grampian" planning condition is proposed, as authorities have not been able to find out who owns the deeds for the site.
The conditions will mean the company must carry out a wall restoration scheme before building work starts on the houses.
It also means a wall maintenance fund for future works on the wall must be set up before new dwellings are occupied.
A "Grampian" condition prevents the start of a development until off-site works have been completed on land not controlled by the applicant.