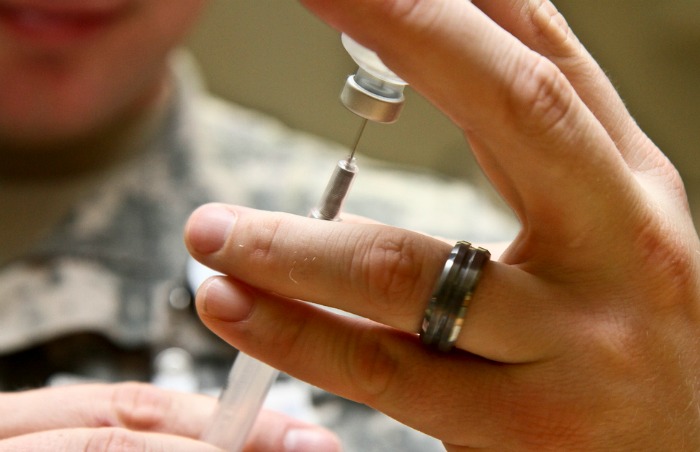 Residents across Nantwich and Crewe are being reminded to have flu vaccines amid a rise in the number of cases in the area.
Latest reports by Public Health England show that flu, a common infectious viral illness spread by coughs and sneezes, is now circulating in the community.
A growing number of cases have also been confirmed at Leighton Hospital.
Leaders of local NHS organisations are urging people to get vaccinated and to help reduce the risk of the virus spreading.
Tracy Bullock, Chief Executive of Mid Cheshire Hospitals NHS Foundation Trust, which manages Leighton Hospital, said: "As a Trust we follow a number of measures to prevent the spread of flu, including offering all of our staff a vaccination to protect themselves, their loved ones and patients.
"There are also steps we can all take to reduce the effects of flu on the hospital and the wider community.
"We would encourage the public not to visit the hospital, or any other care setting, if they have recently been unwell or had recent contact with someone with flu-like symptoms.
"Maintaining good cough and hand hygiene can also help to prevent the spread of germs and reduce the risk of transmission.
"This includes washing your hands often with warm water and soap, using tissues to trap germs when you cough or sneeze, and binning used tissues as quickly as possible."
For those who are otherwise fit and healthy, the best thing is to stay at home, keep warm and drink plenty of fluids.
Over the counter medicines like paracetamol and ibuprofen can help tackle symptoms like fever, coughs, sore throats, and aching muscles.
Dr Andrew Wilson, GP and Chair of NHS South Cheshire Clinical Commissioning Group, said: "For most people flu is just very unpleasant and will usually clear up by itself within a week, but for some it can be life threatening.
"We're therefore urging anyone who belongs to an 'at risk' group to get their free flu vaccination as soon as possible.
"By having the flu vaccination, which is the best protection we have against the virus, people can protect themselves and their loved ones."
A flu vaccine is available free of charge for anyone over the age of 65, pregnant women, those with a serious long-term health condition, those living in a long-stay residential care home, and those who receive a carer's allowance/are the main carer for an elderly or disabled person.
It's also free on the NHS for children over the age of six months with a long-term health condition, children aged two and three, and children in reception class and school years 1, 2, 3, 4 and 5.
If you are eligible for the flu vaccine on the NHS, contact your GP, pharmacist or midwife to get it.
Further information on flu and how to get your vaccination can be found by visiting www.nhs.uk/flu.
You can also get Self Care information around how to treat symptoms at home, on the CCG websites http://www.southcheshireccg.nhs.uk/self-care/self-care/how-to-self-care