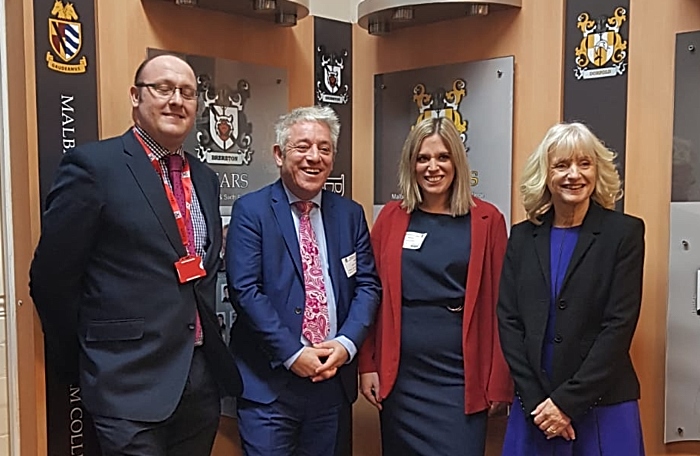 All 'ayes' were on John Bercow today when the Speaker of the House of Commons took a break from the chaos of Brexit and Parliament – to visit Nantwich and Crewe.
Mr Bercow took time out after being invited to South Cheshire by Crewe & Nantwich Labour MP Laura Smith.
He visited Malbank School and 6th Form College in Nantwich where he held a debate and discussion with students and met with headteacher Jeanette Walker.
He then travelled to Cheshire College South and West in Crewe to hold a similar session with students there.
He also dined in the college's award-winning restaurant, before popping back on the train at Crewe to head to London.
One of the key roles for a Speaker is to visit different constituencies and speak to younger people about the role of parliament and democracy.
Ms Smith said: "Today has been a wonderful opportunity for the students at Malbank and South Cheshire College South and West to question one of the most important and influential figures in our country.
"As someone who was schooled in the area, I want to give our young people as many opportunities and experiences as I can within my role as Member of Parliament.
"The students have done a fantastic job finding out all about the role of The Speaker and how things work in The Houses of Parliament, and as usual they did our community proud.
"I am very grateful to John Bercow for taking the time to visit this constituency and I hope that it will be a day that these young people remember."
Mr Bercow has had one of his busiest weeks with two of the most crucial Parliament votes by MPs in recent times – firstly on Theresa May's Brexit withdrawal deal, then 24 hours later on a 'no confidence' vote in her leadership.
The Speaker of the House of Commons has a 'chairing' role in Commons debates and as a result does not vote, unless there is a tie.