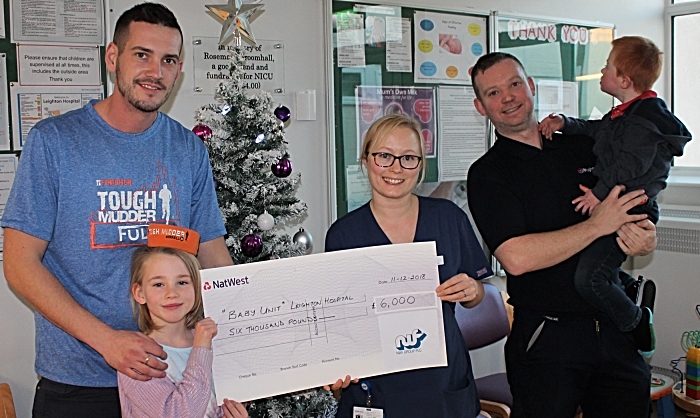 Workers from Nantwich firm Boughey Distribution have presented a cheque for £6,000 to Leighton Hospital's Neonatal Unit.
Staff arranged fundraising activities throughout 2018 including more than 70 employees taking part in the Cholmondeley Castle Tough Mudder in September.
Boughey is based off the A51 in Wardle, near Nantwich.
Carole Salmon, MCH Community Fundraiser, said: "We are delighted with the fantastic amount raised by Boughey Distribution and its employees.
"Their drive and enthusiasm for their fundraising has been a pleasure to be a part of."
Melissa Robertson, of Boughey Distribution, added: "This charity is close to so many people and to be able to raise £6,000 for them is just wonderful, it was the least we could do."
There are hundreds of ways people can fundraise for Mid Cheshire Hospitals charity.
Charity workers can support fundraising efforts and can offer resources.
For more information contact Carole Salmon, Community Fundraiser on 01270 273248 or [email protected]
(Pic: left to right – Daz McGowen, Boughey employee with daughter Gracie-Leigh; Rachael Beagles of Leighton Hospital Neonatal Unit; Jonathan Lewis Boughey employee with son Finley)