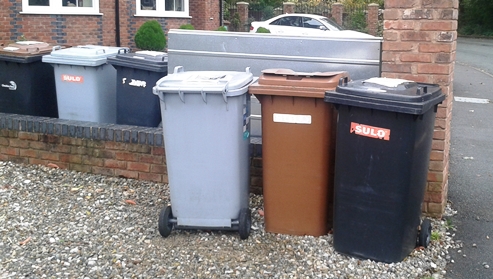 Angry Nantwich residents have rubbished Cheshire East Council for delays to the delivery of new wheelie bins they've had to fork out for.
The new £30 wheelie bin charge was brought in late last year, which families moving in to new developments like Stapeley Gardens and Kingsbourne are paying.
But some have had salt rubbed in their financial wounds after the authority failed to deliver their new bins within the 20-working day limit.
Now the council has blamed "technical issues" for the delay.
One resident Tommy Ray Fleet-Pattinson, on Montgomery Avenue, Kingsbourne estate, said: "Cheshire East charged us £30 per bin.
"So with it being winter and all the expenses of moving house, we just ordered the general waste bins and recycling bin.
"We ordered and paid for them on December 12 and still have not received them!
"Our neighbour has also not received them and somebody else on the estate has contacted me saying they hadn't either.
"So not only are we having to store bin bags of rubbish in our new home but are then having to pay fuel to go up to Crewe to the tip!
"I have been on the phone to them again today (January 18)
"This time they said they have it down on their system as ours being delivered today however they're not our bins, they are our neighbours with their house number on them and now told me it will be next week.
"It makes you think whether we will have all this mither again when we come to order our garden bin!"
Another householder on Stapeley Gardens development contacted us, saying: "All new build houses have to pay £30 per bin, they are supposed to deliver within 20 'working days'.
"We submitted our application and heard absolutely nothing and there are others on the estate still waiting.
"It finally came today (January 18), 28 days after our order."
Cheshire East says the delayed deliveries are being resolved and apologised, promising some families a refund.
A Cheshire East Council spokesperson said: "We are informed by the council's wholly-owned environmental services company Ansa that residents ordering wheelie bins can expect to have them delivered within five to seven days, although in some circumstances this could take a little longer.
"We are aware that, owing to some technical issues, a small number of residents did not receive their bins in a timely way and we have now addressed this and apologise to those residents for any inconvenience.
"Where residents have experienced exceptional delay, they will be refunded.
"There have also been a number of occasions when we have arrived to deliver a bin to a new-build property only to discover that it is not yet occupied, which can result in bins not being delivered.
"We would ask that residents moving into a new-build home only order their bins when they have moved in and registered for council tax.
"New bins are embossed with the resident's address to identify them to the property."
Anyone who would like more information about ordering a replacement or new bin, should contact the council via https://bit.ly/2VZ5I7G