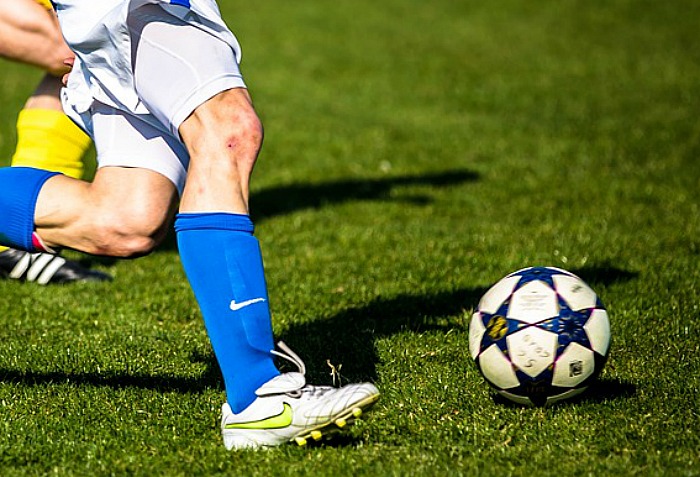 The teams in second and third place in the Crewe Regional Sunday League Premier Division went head to head.
And it was Crewe Athletic who emerged triumphant, beating Salvador 6-3 to move into second place on goal difference.
New signing Matty Taylor starred for Crewe Athletic, netting five goals with Jake Foster also on target.
For Salvador, Kev Sharp scored two and Matthew Cope one.
White Lion Ford Lane looked to be heading for a surprise defeat at lowly Talbot when Danny Jones scored twice for the home team to cancel out a Danny Roberts goal.
But late strikes from Ben Durkin and Josh Ruane won it for the visitors.
League leaders Square One visited Wheelock and beat Elworth Park Rangers 1-6 thanks to hat-tricks from Danny Dodd and Mike Blundell.
Keiron Duckers scored for Elworth.
Luke Gillan converted a second minute penalty kick for Willaston White Star at Faddiley.
But the home team still won 3-1 thanks to goals from Richard Ford, Ash Lawton and a late penalty from Will Emerton. The win moves Faddiley up into fifth place in the table.
There was only one fixture scheduled in Division One and Sydney Arms beat Sandbach Town 6-2 to move back into third place.
Their scorers were Alex Forrester, Sean Owen, Louis Everall, Rhys Potter, Mike Smith and Vinny Pownall. Jake Standeven scored both the Sandbach goals.
Eight teams took part in the quarter finals of the Crewe FA Concorde Trophies Vase.
Winsford Over staged a dramatic comeback to beat Haslington 3-2.
The visitors were leading 0-2 at half-time thanks to goals from Damian Sloan and Owen Porter, but the home team introduced Calvin Abbott from the substitutes bench and he scored a hat trick.
George and Dragon disposed of Nantwich Pirates 8-1 with four goals from Charlie Hatton, two from Matty Davies and one each from Connor Hooks and Richie Macalease. Wayne Garnett got the Pirates goal.
White Lion went down 1-7 to The Ark.
The home were only 0-1 down until just before half time but The Ark ended as comfortable winners with goals from Joe Pointon, David Garstang, Perry Bircumshaw (3) and Mason Farrell (2). Aaron Gray netted for White Lion.
Nantwich based AFC Wickstead prevented an all Winsford quarter final when they won 0-1 at Brighton Belle thanks to a Paul Bowker goal.