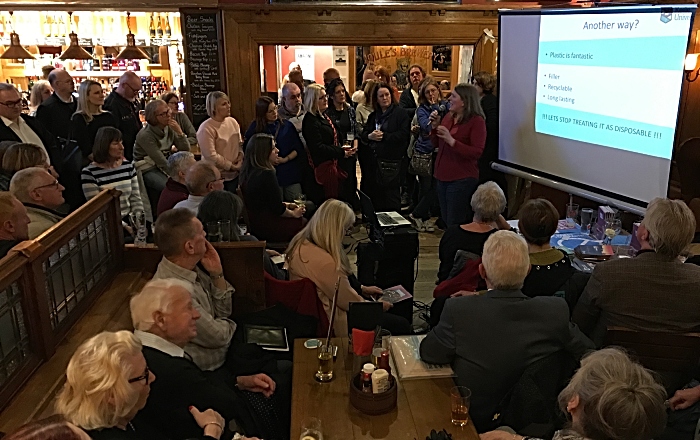 More than 100 people attended a "Plastic Free Nantwich" campaign group launch at The Leopard pub in Nantwich, writes Jonathan White.
The group was set up by local environmental campaigner Jeremy Herbert and young mother/RSPCA Stapeley Grange Education Officer Emilie Janman, who both spoke at the event.
Plastic Free Nantwich is a grassroots people's campaign to encourage sustainable and safe alternatives to plastics in everyday life, who aim to tackle the rising tide of plastic pollution in the oceans, soils and the air.
Jeremy led the evening and gave the background of his involvement in ecological issues particularly in his home town.
He has also liaised with grassroots environmental network "Friends of the Earth" to get drastic on plastic to change the world for good.
Emilie spoke about her turning point against the use of plastics when a seal was brought to RSPCA Stapeley Grange with a plastic frisbee embedded in its neck.
As the seal had grown, the frisbee had become more and more embedded so it had restricted eating and drinking.
She has also liaised with marine conservation & campaigning charity 'Surfers Against Sewage' and is the lead person in Nantwich on their Plastic Free Communities initiative.
Guest speaker and national expert on plastic pollution Dr Sharon George, from Keele University, gave a talk about the effect of plastic waste on the environment.
It detailed the longevity and mobility of plastics, the different hazards created by macro and micro plastic waste and the necessity for all of us to re-think our use of this "amazing resource" but in ways that are sustainable and non-harmful to our environment.
The UK uses 38.5 million single-use plastic bottles every day, of which fewer than 60% are currently recycled.
Only 1% of the 2.5 billion coffee cups used in the UK each year are recycled.
Used for just 20 minutes, once discarded a straw can last in the environment for 100s of years.
Plastic bags fragment in 100-300 years depending on thickness and size, but will remain at large in the environment indefinitely.
Millions of toothbrushes are discarded every year to preserve dental health, so a non-plastic toothbrush does not pollute our environment after use.
Nearly 24 cotton bud sticks are found for every 100m of UK coastline – these are incorrectly disposed of down the toilet and can last over 150 years in the environment.
Single-use plastic utensils are often not recycled due to contamination with food and cost of recycling per unit – refuse them, take your own and reduce this unnecessary addition to landfill.
Going plastic-free is not easy but reducing your plastic use is.
For further information, search Plastic Free Nantwich on Facebook and Instagram, or email [email protected]