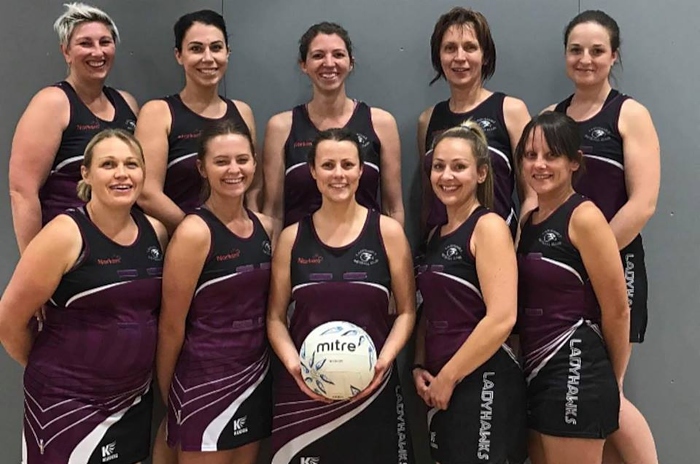 Crewe and Nantwich Netball Club Ladyhawks is celebrating their 10th anniversary in style after its four adult teams produced their best performances in the Everybody Sport League.
Team G (pictured) secured second place in Premiership, while Team A maintained their Premiership position finishing in 9th place.
Team L secured second which sees them promoted into the Championship next season, and Team O just missed out on promotion play-offs with 5th.
The club, which trains weekly at Reaseheath College in Nantwich, has now secured funding from Everybody Sport Foundation and Cheshire County Netball Association to support the development of three Assistant Junior Coaches who will attend England Netball Level 1 coaching course this year.
This will help support the growth in numbers of their junior section from 50 to 80, as well as development of volunteers.
Head Coach Claire Standley has also been nominated for Grassroots Coach of the Year Award as part of the prestigious Netball North West Goalden Globe Awards taking place in Manchester on April 27.
Claire said: "I'm really proud of our performances this year, both adults and juniors.
"We've shown that as a club, we are growing and developing all the time.
"Ladyhawks provides a really positive environment for girls and women to partake in netball and it's a fantastic asset to the area that we can offer such a broad programme of Netball sessions."
Junior teams will play in a local tournament run by Vitality Netball Superleague Club, Manchester Thunder, on April 27, before watching Manchester's top of the table team's penultimate league fixture v Team Bath.
The club has also introduced a Netball Now session this season, that has engaged 46 new ladies back to the sport.
Clair Morris, club vice-Chair and lead volunteer for Club Netball Now, said: "I am immensely proud of every single lady who has got back into netball with us and their effort at these fun and informal sessions.
"Having been there myself, I know it can take a lot of courage to go to that first session.
"It's so worth it, though, and it's a great social experience as well as enabling enjoyable exercise playing a sport that means so much to many of us."
To keep up to date with Ladyhawks, visit Facebook https://www.facebook.com/ladyhawksnetball/ Twitter @LadyhawkNetball and Instagram @Ladyhawknc