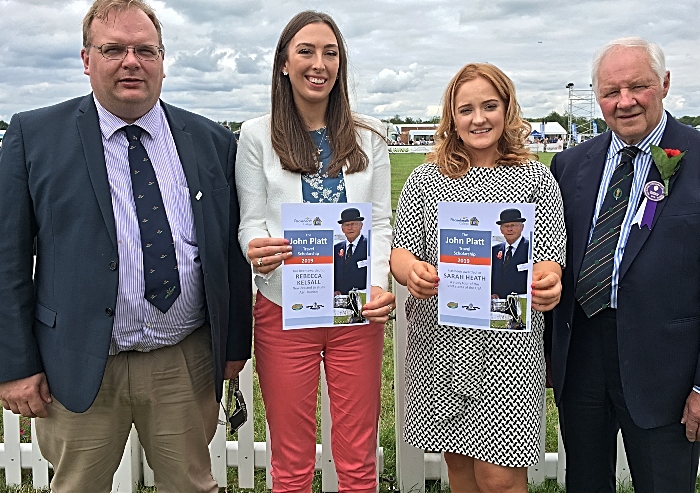 Two young farmers are looking forward to global travel thanks to an annual scholarship run by Reaseheath College and the Cheshire Agricultural Society.
Sarah Heath, a trainee land agent from Tarporley, and Rebecca Kelsall, a herdswoman from Sandbach, have each been awarded £2,000 John Platt Travel Scholarships.
It will help fund international research which will benefit Cheshire's farming community.
They received their scholarships at the Royal Cheshire County Show and will share their findings with fellow farmers, Young Farmers Clubs and agricultural students on their return.
Sarah, 21, on a 12 month placement with rural land agents Rostons Ltd, is planning a two-week visit to the USA.
She will investigate successful intensified dairy operations and whether they can be replicated in Cheshire.
She said: "I'm interested to find out how intensified dairy units in the USA deal with issues such as public perception, environmental management and staff management and whether their solutions could be successfully applied in the UK.
"I would like to thank Reaseheath College and the Cheshire Agricultural Society for giving me the opportunity to further my knowledge and interests."
Rebecca, 26, worked until recently for JR & MC Downes at Webscott Farm, an organic and antibiotic free dairy farm in Shrewsbury.
She travels to New Zealand where she plans to gain an overview of extensive style dairy systems.
She will be working on an award-winning 'profit and not production' dairy farm which runs its herd of 850 Spring block calving cows outside all year round.
She will also visit other dairy businesses across the country in a trip which initially is for six months.
Rebecca said: "New Zealand style systems operating block calving and 365 day grazing are becoming increasingly popular in the UK.
"I'm intrigued to see these cows and to study their breeding to find out why they work so well."
Cheshire Agricultural Society Chairman Emeritus Tony Garnett said both recipients had been outstanding candidates and had shown drive, ambition and desire to seek out new information and technology which would benefit the Cheshire farming community.
The John Platt scholarship is in memory of John Platt, a former Chair of Reaseheath Governors and former Chairman, President and Honorary Life Warden of the Cheshire Agricultural Society.
For further details see www.reaseheath.ac.uk/john-platt-scholarship
(Pic: Sarah Heath and Rebecca Kelsall receive their John Platt Travel Scholarships from Tony Garnett and Reaseheath's Principal Marcus Clinton at the Royal Cheshire County Show)