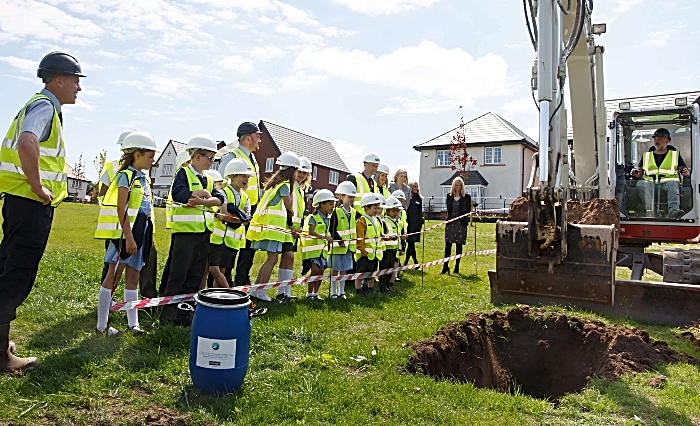 School children from Wistaston left their mark on history as they buried a time capsule at the village's new housing development for future generations to discover.
Pupils aged 5 to 11 from Wistaston Church Lane Academy put a variety of objects in the capsule, from popular toys like Lego, a squishy and slime to a school uniform, coins, letters to their future selves.
They also added a USB memory stick containing videos of themselves and their work.
Poignantly, the children also included pictures of endangered animals which they thought may be extinct in 50 years.
Principal at Wistaston Church Lane Academy, James Bancroft, said: "The children have really enjoyed putting together their very own time capsule.
"The activity has challenged them to think about how different life will be for the future community and where they themselves might be and what jobs they will be doing.
"They enjoyed discussing what life might look like in years to come and had lots of fun selecting items to be buried that will give future generations some insight into what their lives were like in 2019.
"We are extremely proud to be involved in this project with Bloor Homes."
Pupils also got to take a look behind the scenes at Wistaston Brook, a site of 300 new homes.
James added: "As the Wistaston Brook development is so close to our school, the children are very interested in how the site is developing and notice as new homes pop up.
"So, it was nice for them to be able to visit the site and learn more about the housebuilding process and the many different jobs involved in building new homes."
Sarah Ransom, marketing manager at Bloor Homes North West, said: "We thought it would be a great initiative to get involved with the children from Wistaston Church Lane Academy and work with them on this time capsule project.
"It also seemed like a very fitting way to mark the 50th anniversary of Bloor Homes.
"It was wonderful to welcome the group of children from the school to the development to help bury the time capsule and to hear from them about the objects they chose to include for future generations to one day discover."