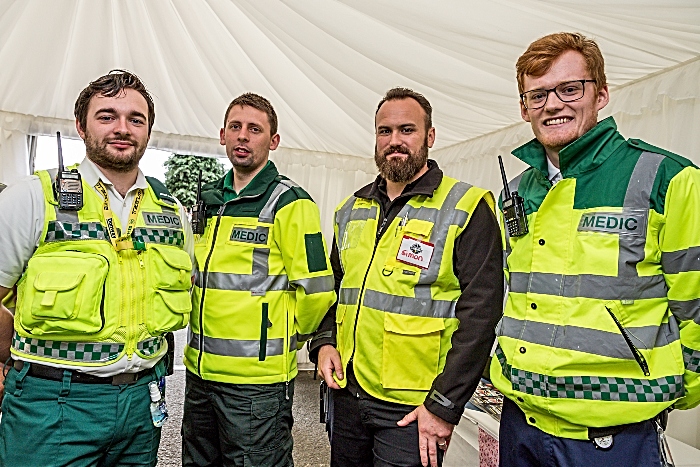 Nantwich Food Festival organisers say they are stepping up safety and security for this year's event.
Local company Alpha Omega has been brought in to provide 24-hour festival security, including when the organisers go home each evening.
And the security of children has been boosted with free wristbands for youngsters which will show parent/guardian contact details.
These will be available from Park and Ride buses, the Festival Office in the town centre, Nantwich Town Council stall and the kids' marquee during the festival August 30-September 1.
Simon Walter, of Rhino Safety, ensures risk assessments are in place and volunteers have received appropriate training.
He said: "I have worked with the festival team for some years, ensuring safety barriers are in place and marquees don't get too over-crowded.
"Some streets also need to be closed to ensure visitor safety, and there is lots more work behind the scenes.
"This means that visitors can have a great time, and go home safe and well at the end of the day.
"Accidents can happen at anytime, anywhere. We plan to prevent them, but also have a great team of First Aiders from Staffs Solutions Group onsite throughout the Festival, immediately available to deal with any health problems or injuries."
Laura Salmon organises security and children's activities, and has welcomed Alpha Omega who are part-funding the kids' marquee.
She said: "We have a great line-up in there, think gingerbread decorating sponsored by Chatwins Bakery, seed sowing, snack making, face painting, glitter tattoos and much more.
"Most activities are free, and monitored by volunteers, though donations are welcomed, and will go to Nantwich Food Bank.
"We also have a cupcake decorating competition. Each child that enters will receive 4 Miss Marmalade's cupcakes and basic decorations.
"Contestants can bring additional decorations, and will need to decorate their cupcakes on the theme of 'What I did on my summer holiday'.
"The lucky winner will receive a voucher for a Freak Shake for 2 at Miss Marmalades."
A new innovation for 2019 is more vegetarian and vegan food.
The Vegetarian Society Cookery School will host the Love Lane Demonstration Theatre during Festival Friday, when expert chefs Sam and Maz will demonstrate innovative meat-free recipes.
Other Festival plans include the BBQ competition, with a Broil King barbecue prize.
Cheerbrook Farm Shop is providing all meat for the competition free as part of its Festival sponsorship.
Clewlows butchers are donating an Ipad for the winner of the separate burger making competition.
Young foodies aged between 8 and 12 are eligible to enter.
Voting for the Nantwich Food Awards, sponsored by Applewood Independent, closes on September 2.
For details of how to contact the Festival and see all the Nantwich Food Festival plans, visit www.nantwichfoodfestival.co.uk