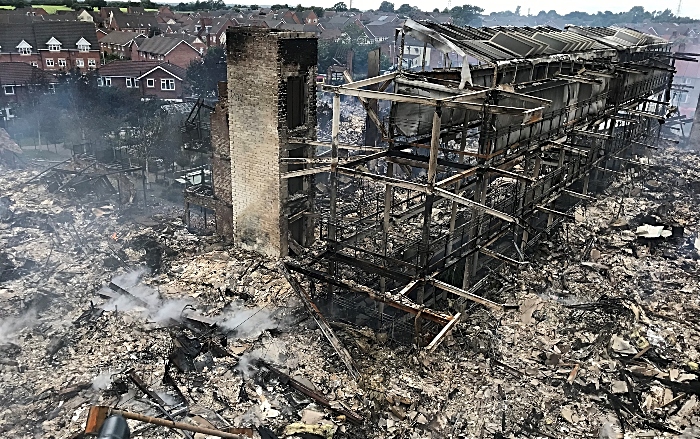 Members of five Rotary Clubs in Crewe and Nantwich teamed up to support victims of the Beechmere care home blaze in Crewe.
They volunteered to help residents in managing huge donations of food, clothing, toiletries and equipment and in providing Sunday lunches in collaboration with Hopes and Beams.
The five clubs – Crewe and Nantwich Weaver, Crewe, Nantwich, Bentley Cheshire, and Wyche-Malbank – have also donated £2,800 to the fund established to provide support for the former residents.
President of Crewe and Nantwich Weaver Simon Yates said: "Rotary has a strong reputation in supporting emergencies overseas, however the tragedy of Beechmere has demonstrated that Rotarians are part of the local community and will rise to the occasion when required."
The Rotary Club of Crewe and Nantwich Weaver dedicated its weekly meeting to celebrating the work of local charities by donating more than £4,000.
Following the club's successful Golf Day donations were made to Buddy Bag Foundation which supports children taken into refuges because of violence or abuse, and Visyon which supports children and adolescents with mental health issues.
In May, the club held another Weaver Wander Car Rally and proceeds from that and the sale of Cheshire Cheeses were donated to St Luke's Hospice which supports many people in the area.
Metabolic Support UK, previously known as CLIMB, also received a donation. The charity supports children with rare metabolic diseases.
Mr Yates added: "Rotary clubs work throughout the world to support large scale aid projects but we also dedicate 50% of out time, energy and funds raised to support local charities.
"The club is grateful for the support it receives from the people who live in Crewe and Nantwich who have enabled us to make these donations."
(Pic below, left to right: Sue Roberts BBF, Julie Kempster MSUK, Simon Yates C&NW, Lee Fullerton Visyon, Emma Vaughan Visyon, Angela Slack St Luke`s Hospice)