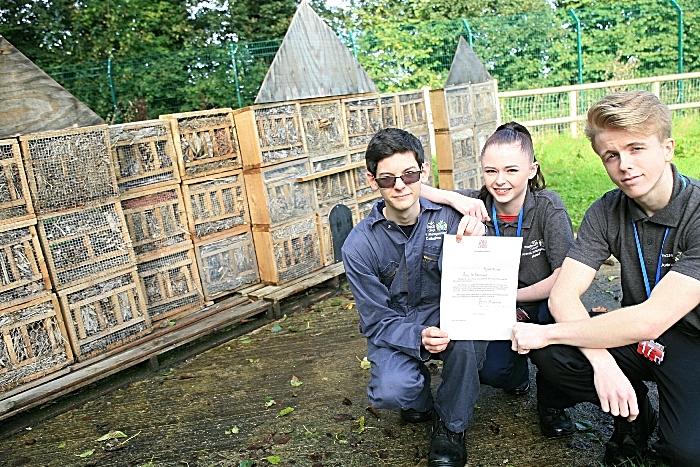 Animal Management students at Reaseheath College in Nantwich have received royal approval after they built a palatial home for insects.
The students modelled "Bug'ingham Palace" on the Queen's London residence and built it from packing cases, wood offcuts, chicken wire, branches and foliage from native trees.
The project, constructed over five weeks during practical estate skills sessions, was then photographed and the photos and covering letters were sent to the households of Her Majesty and HRH Prince Charles.
The students were delighted to receive replies on behalf of both royals, thanking them for their efforts to help conserve local bugs, bees and beetles.
The impressive building is part of the native species habitat in Reaseheath's mini zoo and sits alongside a wildlife pond, natural grassland and wild flower area.
It is already attracting a wide range of insects such as woodlice and solitary bees looking for a safe home for hibernation over winter.
The students are keen to measure the success of their project and are looking forward to surveying and counting the residents as they emerge next spring.
Ben Sutcliffe, Instructor in Lower Vertebrates and Invertebrates, who led the project, said: "This was a fun project but with a very serious message.
"British insects are in decline mainly due to habitat loss and climate change and it's important that our students understand the issues and what they can do to help reverse the situation.
"If everyone set aside one small area where insects can safely eat and sleep it would make a big difference, both to the invertebrates themselves and to the many species of native wildlife which rely on them for food."
Rhe Foster, a Level 3 Animal Management student, said: "I've learned a lot from this project, particularly about the decline of insects and how important it is to help grow the population.
"I've realised how serious the situation is becoming and it's been good to do something to rectify it.
"It's also very interesting and something I didn't have much knowledge of before coming to Reaseheath."
Reaseheath's mini zoo is open to the public at weekends and during school holidays.
It will celebrate World Lemur Day on Saturday October 26 with a special programme of events. Visit www.reaseheath.ac.uk/zoo
(pic: Level 3 animal management students Josh Callaghan, Rhe Foster and Kye Tempest with 'Bug'ingham Palace)