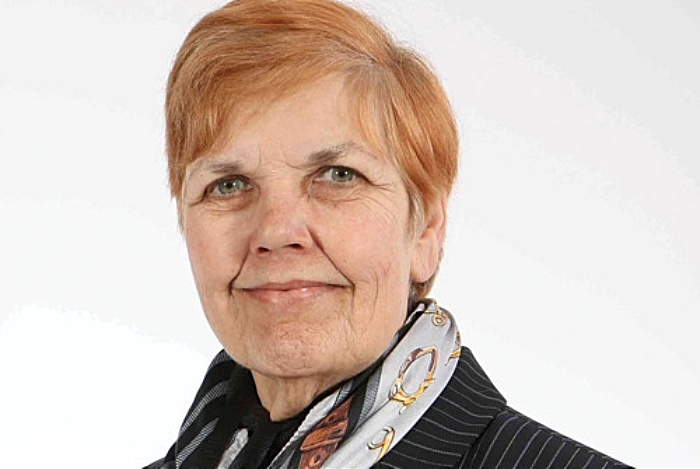 As the country prepares to head to the polls on December 12, the Local Democracy Reporting Service has interviewed all candidates in Eddisbury constituency.
In the final pre-election interview, Andrea Allen discusses her reasons for standing in the constituency as a UKIP candidate.
Who are you?
I'm an ex-teacher, I taught modern foreign languages for 25 years – mainly French, some German and a bit of Russian.
Before that I was a secretary – I did not ant to go straight from school and university back to school, I thought it was important to have experience in the real world.
Why are you standing for UKIP in Eddisbury?
I know people were very unhappy with the previous MP [Antoinette Sandbach]. She stood on a leave ticket and did not implement that.
When the Brexit Party pact was announced I thought – of all the candidates here, I am the only one that wants to leave the EU with a clean break.
Her Conservative successor [Edward Timpson] campaigned for remain and he voted to remain, and now he is asking voters to believe that this time things will be different.
We have had so many promises that have not been implemented. We had David Cameron's leaflet saying it is our decision and Government would implement what we decided. There was March 29, April 12, then 'no ifs, no buts, we are leaving on October 31'.
It is now nearly December and we are still not out. I do not believe that this deal actually gets us out, I think it still leaves us tied to the EU – closely aligned as they say.
And now the deadline is January 31. Come that date I have a suspicious feeling we will be discussing another extension.
People voted in 2016 to get out of the EU and they should have somebody on the ballot that really is in favour of that.
Don't the Tories want to 'get Brexit done'?
I think this deal – which is 95 per cent Theresa May's deal with a few tweaks – still has all the problems that the original deal had. I don't see that it gets us out.
I want a clean break. I want us to leave on World Trade Organisation rules that other countries use without any problems. It is not, as the mainstream media describes, 'crashing out' – it is an orderly decision. It would use tried and trusted rules and regulations.
I think they are trying to say we have to have a deal – but when I voted to leave I voted to leave, I did not vote for a deal.
Is your message resonating with voters in Eddisbury?
I do find that people are fed up with the shenanigans that have been going on. They do want to get it done – but they want a real break, what they voted for in 2016, not a fudge.
What would you say to businesses in Eddisbury that are concerned about Brexit – particularly about leaving without a deal?
There are plenty of good economic reasons why leaving without a deal is better for us than leaving with a bad deal – a deal that does not give us the freedom to do the things that we want.
It is in the EU's interests to give us a free trade deal. They sell to us more than we sell to them, we run a trade deficit with the EU and the emerging markets are in more than 180 countries that are not in the EU.
What should have been happening after we voted to leave is much better planning for no deal and then worked on a free trade agreement, but instead they were trying to keep us in by the back door and put a clean break on hold.
If there are concerns they are down to a lack of planning over the last three and a half years – it could have been sorted by now.
What are UKIP's key domestic policies?
First of all we need to put a limit on the numbers of people coming in. Everybody says that we should not say that – but it is a numbers game.
We need to concentrate on people that have the skills we need but we must not ignore our own workforce. We should train them up and encourage apprenticeships rather that 50 per cent of young people going for a degree that leaves them in debt.
We have a policy that we won't have university fees for those doing STEM [science, technology, engineering, maths] subjects as long as they agree to work in the UK for five years.
Those are the skills that we really need. We need more doctors and nurses, engineers, scientists – we don't want them burdened with debt – and we need to encourage vocational subjects.
As a former teacher I think education is important – it is an investment in our future. We also want to scrap hospital parking charges.
But it is a matter of numbers that are putting pressure on housing – not so much a housing crisis as a population crisis. It is putting pressure on green fields.
There are 300,000 people a year coming in – that's the size of a small city. We are building homes on green land when we need plants for carbon capture – so that's not very green.
Fundamentally, we believe in a small state and a low tax economy. People should do a full day's work for a full day's pay.
Winsford has some of the most deprived parts of Cheshire, and poverty has risen in recent years. What should be done to help?
I think education will be a great help. I think that helping people to understand their budget as well to make sure they know how to do things. I have always felt that education is the way out of poverty.
That includes schools, but also life-long learning. People should have access to learning – not everybody learns in the schoolroom. In many respects teaching people in school should be teaching them ho to learn and how to make use of resources.
But I think we can't do anything until we have got out of the EU – that has got to be the priority. Once we are out we can build things up – we are not paying £39 billion to the EU, we can invest that in this country.
If people have more of their own money they will spend that money better than the Government does – and I think that would be a key help for the people of Eddisbury, to have more money in their pocket.
NHS has been a major talking point in this election – how would UKIP support it?
Again it's a pressure with numbers – more people using the NHS, a system where you cannot get an appointment with a GP, people are using A&E instead.
It is our policy to not make the NHS available to new arrivals. Any non-British citizens would have to have private health insurance.
I also think there is an awful lot of waste in the system. I think the main problem is that there are too many people that are not medically qualified making decisions and that there is a lot of waste in the system.
Let's discuss that migration policy. You say you would not let new arrivals use the NHS – but the NHS attracts many workers from the EU and abroad. Shouldn't those workers be able to use the service they contribute to?
On EU workers – I don't know what has been arranged by Government, they are encouraging people to remain. I would imagine if they are registered then they would have the right to access it.
If they have contributed then it is not a problem – people that have contributed to it. We are saying it is not available to new people that come here.
Fox hunting hit the headlines in our area last winter, and our police and crime commissioner has called for the Hunting Act to be tightened – what should be done?
I think that for the majority of people that live in the city it does not touch their lives at all, but to the people that live in the country it is an important part of their social life.
It also brings a lot of money into the rural economy – with saddlers, the grooms, people like that.
Labour spent 700 hours coming up with the current act, but they still did not approach it from the point of view of welfare. It has so many inconsistencies – why would hunting a hare be illegal and not hunting a rabbit?
But really, hunting I don't think is a big issue. I think it is something that should be put on the back-burner.
Eddisbury has a large rural community – how would UKIP support that community?
We certainly need to explore as many ways of delivering the internet as possible in rural areas – by satellite, or by putting up masts on church steeples for example.
Internet is very important. I was without it for eight days recently and it was a nightmare, so I do understand what it is like for people in the country that cannot get reliable broadband.
Isolation is a particularly important issue to address for farmers. There are lots of support networks that need help.
Farming is one of the most stressful occupations. Suicide rates are high because they are working on their own. There is a lot of stress, they need that support and that should definitely be a priority.
As a result of getting out of the customs union farmers will need support. They will need subsidies as they get at the moment, but more effective ones.
Finally, you have a day off – no work or campaigning to do. How would you spend your ideal day in Cheshire?
Going out in the countryside. There is some majestic countryside in Cheshire – Beeston Castle or Peckforton.