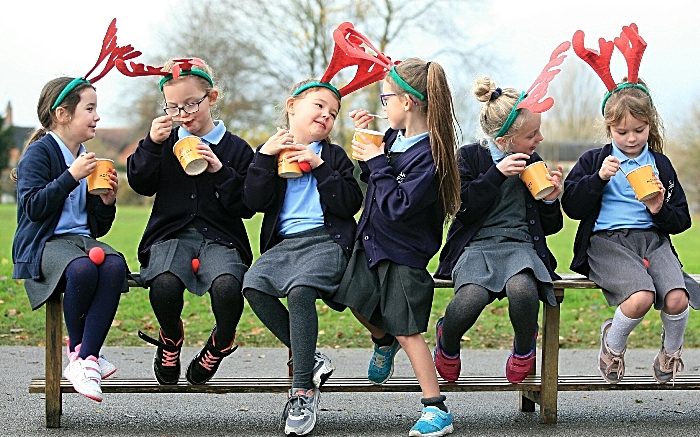 Children at a Nantwich school proved a runaway success when it came to fundraising for St Luke's Cheshire Hospice.
More than 200 youngsters from St Anne's Catholic Primary School donned red noses and reindeer antlers to launch 2019's Rudolph Run fundraising campaign for the Winsford-based facility.
This year it has backing from one of the country's oldest family businesses, Mornflake, as it aims to beat £40,000 raised for patient care at the hospice in 2018 when 42 schools in Cheshire hosted their own runs.
There's free porridge sachets for everyone taking part this year.
And St Anne's classmates were fast off the mark after filling up with oats from the breakfast company's visiting vintage van Oatis.
Hospice officials are asking everyone to get involved – schoolchildren, community groups, work colleagues, sport groups and friends.
They will be provided with their very own reindeer antlers and red noses – and for teachers, there's a free Santa suit!
St Anne's headteacher Hazel Brown said: "Sponsorship envelopes were sent home to families and they gave generously.
"Pupils then ran or walked round the school grounds on a crisp winter morning and had great fun doing so in reindeer antlers and red noses."
St Luke's Community Partnerships Manager Angela Slack said: "St Anne's certainly helped get our Rudolph Runs off to a flying start!
"We are currently totting up proceeds from over 140 sponsorship envelopes.
"There are various schools staging events over the next few weeks but we would love to hear from more and any organisation that would like to take part.
"We'll then give them everything they need including reindeer antlers and red noses, which they can keep afterwards.
"We'll also provide a Santa suit for the teacher and of course posters and sponsorship envelopes so the children can collect donations from family and friends.
"We can even visit the school or group to speak to the children about the difference their fundraising will make to St Luke's this Christmas."
Mornflake brand communications manager Maria Mulliner said: "We had a lovely time at St Anne's.
"The children were fantastic running laps of the school's new running track in aid of St Luke's, fuelling up with Mornflake porridge.
"It was a wonderful to see so many smiling faces. All beaming and joyful in their red noses and reindeer antlers but understanding it was for a good cause.
"They had great fun and their friendship and good manners were a credit to them.
"The Rudolph Run is a great way to get youngsters, parents and teachers involved in light-hearted, festive activity while supporting the hospice which plays such a vital role in our community."
To host a Rudolph Run contact the St Luke's Community Team on 01606 555811 or  [email protected] for an information pack.