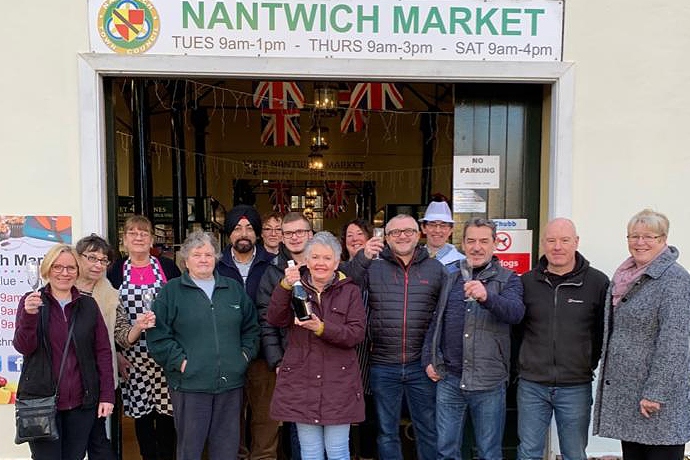 These Nantwich market traders are hoping to raise a toast as the best in the UK at national awards later this month.
Nantwich Market has already been named as one of the top 10 in the country.
Now traders and their loyal customers are eargerly awaiting the results of the Great British Market Awards to see if they will be crowned number one!
Nantwich was shortlisted in the top 10 after a public vote before Christmas.
Housing more than 60 stalls, the Nantwich Town Council-run market sells everything from fresh produce and household goods to cosmetics, clothing, jewellery and art.
There's a busy café as well as stallholders who can mend mobiles or turn up hems.
Nantwich Mayor Cllr Arthur Moran said: "I must congratulate all the traders and Town Council staff on this wonderful achievement.
"The market has been at the centre of the town and community for generations.
"A lot of work has gone into keeping value for money whilst moving forward with shopping trends."
A market has operated in Nantwich since 1500.
The present building, at the junction of Market Street and Churchyardside, dates from 1867 and is run by Nantwich Town Council.
Nantwich is up against stiff competition including rival Chester indoor market in the awards scheme run by the National Association of British Market Authorities (NABMA).
Shrewsbury is also in the running.
Organisers say more than 12,500 votes were received with only a handful separating those making it into the Top 10.
Judging is underway with mystery shoppers expected.
But with more than 1,000 markets in operation across the UK, traders say win or lose they are proud of Nantwich's achievement.
Long-standing traders Sue Goodwin and Janet Stockton said: "This is fantastic news.
"We are proud to be part of this traditional market in the heart of the town. We all work so hard and this is great recognition for our efforts."