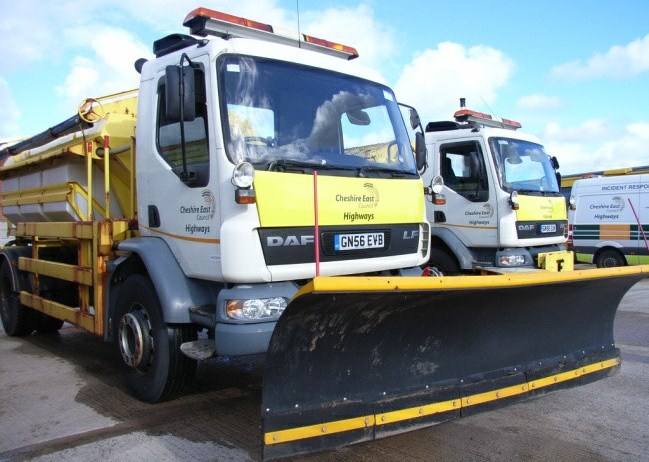 Opposition Cheshire East councillors have "called in" a Cabinet decision to back plans to remove scores of rural roads off gritting routes.
More than 200 roads including many rural lanes in and around Nantwich will be taken off Cheshire East Council's gritting routes from October under the revised Well-Managed Highway Infrastructure (WMHI) proposal.
It was signed off by Cheshire East Cabinet earlier this month, as reported by Nantwich News.
But the controversial policy has been met with fierce criticism, and now opposition councillors have successfully "called it in" for further debate.
A council decision can be called in for a number of reasons, such as if there is clear evidence it was made without adequate consultation or without taking into account relevant information.
Wybunbury Cllr Janet Clowes, Conservative Group Leader, led the call in with support from other councillors.
She told Nantwich News: "We are concerned about the quality of the consultation on this decision, and also the lack of transparency in publishing the data on which decision was based.
"Concerns were raised in four separate Scrutiny committees which was not taken into consideration.
"And also there has been a lack of transparency regarding the results used to determine which roads should be removed from gritting routes."
The authority used a "matrix" point scoring system to determine which roads should be taken off their routes.
And under the plan, key rural roads which will no longer be gritted include Coole Lane from the A530 to the A525, Sound Lane and Swanley Lane, Bridgemere Road from the A529 onto to Hunsterson Lane and Checkley Lane, Wrinehill Road and Cobbs Lane.
Also Long Lane from Burland to Haughton, as well as all of Wettenhall Road from Reaseheath up to Winsford Road, will not be treated.
In total, 247 roads that will be taken off the council's gritting route having failed to score enough points to qualify for gritting under new guidelines set by Government.
A Cheshire East Council spokesperson said: "Proposed changes to a number of highways policies and plans, referred to as 'Well-Managed Highway Infrastructure' were considered at four meetings of Environment and Regeneration Overview and Scrutiny Committee and were informed by public consultation before being considered by Cabinet on Tuesday February 4 2020.
"Cabinet approved the recommendations in the report, however this decision has been 'called in' by members and, therefore, the recommendations within the report to Cabinet cannot be implemented until the proposals have been further scrutinised.
"The matter will now be referred to the Environment and Regeneration Overview and Scrutiny Committee by the council's monitoring officer.
"It is intended that this will be placed on the agenda in time for the scheduled meeting on 16 March."