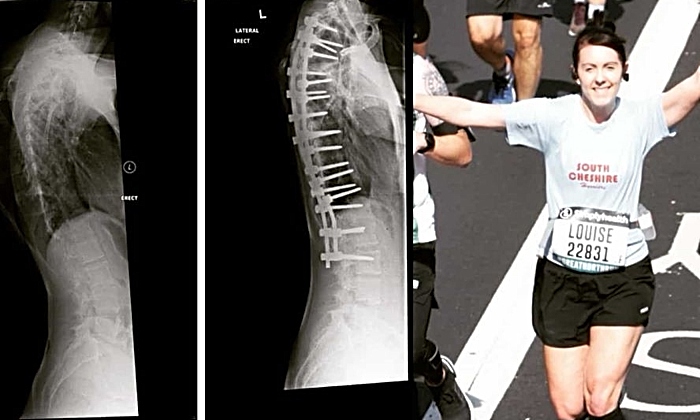 A Nantwich woman is to tackle a marathon and a gruelling 10-day trek to Machu Picchu – despite undergoing life-changing spinal surgery.
Louise Laurie, who works for Cartridge People in Crewe, underwent surgery 10 years ago to correct severe scoliosis.
Now she aims to crown her recovery by competing in the Manchester Marathon and taking part in a 10-day trek to Machu Picchu.
She aims to complete the marathon in April and will set out on her trek later in the year in October.
Louise said: "Following my surgery, it took me over a year to fully recover and I had to learn the basics again such as walking and getting out of bed.
"It was a very painful and long recovery.
"I couldn't even sit up or get in the shower by myself for some time.
"Today, I still get pain, my breathing is affected and I have numbness and nerve issues but my quality of life is so much better than before I had the surgery.
"Going through something like this makes you really appreciate life and I still find it hard to believe all the things I can do now, it's truly amazing what the human body is capable of.
Louise has been with Cartridge People since 2012 and has also completed an MSc in Digital Marketing Communications where she received the best overall performance and top-performing student award.
Her trek to Machu Picchu is graded as tough and will involve trekking an average of 8 hours a day, at high altitude up to 4,600m above sea level, and through remote areas.
"My aim with these challenges is to push myself and inspire others with scoliosis," she added.
"But also to raise awareness of the condition, as although very common, it is still relatively unknown.
"I really need your support in raising as much money and awareness as possible. All money donated will go towards the Scoliosis Campaign Fund."
You can read more about Louise at https://www.cartridgepeople.com/info/blog/introducing-louise-laurie