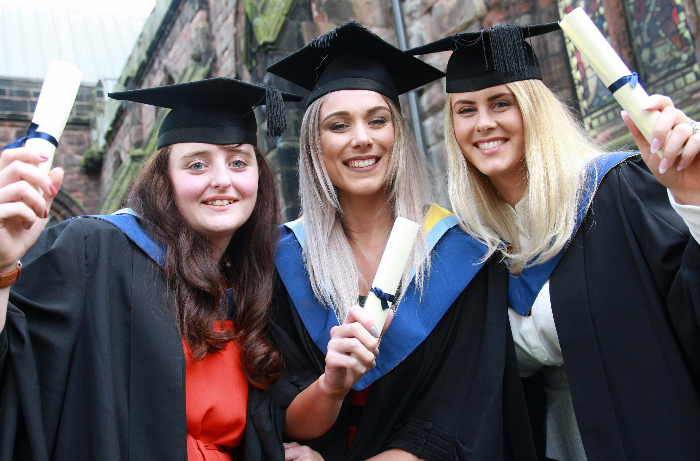 For some people, attending university is almost a rite of passage.
It may be that you are expected to attend and if you didn't, you'd be the only one in a long line of your ancestors not to.
For others, it may be that studying at university is unexpected and perhaps even frowned upon.
Whatever other people's and your own views on this, it will be a challenging and memorable part of your life.
It will teach you an immense amount and not just about the subject you are reading.
Confidence
Many people begin university as the shy, retiring type and leave with bags of confidence.
Whether it is the regular presentations given in front of many of your peers or answering questions and sharing opinions in lecture theatres filled with others, confidence is something you most certainly develop during your time studying.
As well as becoming outwardly more confident in public, you ought to also find yourself being more convincing when it comes to your written work.
Previously, you may have had a firm idea of what you believed, but now you feel empowered to share that with others, using evidence to back everything up.
Independence
Whether someone attends one of the top English universities or not, a large proportion of people will assume that they live off beans on toast and pot noodles.
In fact, that is true for quite a few freshers who are embarking on a huge change in their lives, needing to hone their culinary skills (or lack thereof) at the same time as everything else.
Many people have been used to their parents doing laundry and cooking for them, so independence in terms of living skills are certainly learnt by many. However, independence does not stop there.
The freedom to make your own choices is entirely new to a large number of freshers and along with that comes big responsibility.
No longer can anyone else be held accountable, in any format, for your decisions and issues that arise as a result.
Time Management
One of the most challenging aspects of studying at university can be time management.
When it comes to writing essays and preparing for presentations, it is imperative to organise time wisely in order to meet deadlines and hand in pieces of work of which you are proud.
A haphazard approach to this can lead to poor grades, even failure, and in the case of team projects, you may find yourself on the receiving end of some negativity if you have let others down.
Although these are skills you may have begun to learn while at school or college, everything seems to ramp up a notch or two at university.
Communication
Not only will you have to liaise with a range of lecturers and other university staff, but you also need to communicate with others on your course and those with whom you share accommodation.
Previously, the same approach to everyone may have sufficed, but during your studies, it is imperative to learn the art of communication.
Conflict resolution falls into this category and will certainly be something you need to hone during your years of study.
Whether it is arguments over whose turn it is to do the washing up or clean the toilet, there will be disagreements and to leave university in a positive frame of mind, you will need to learn to be assertive and clear in the way you talk to others.