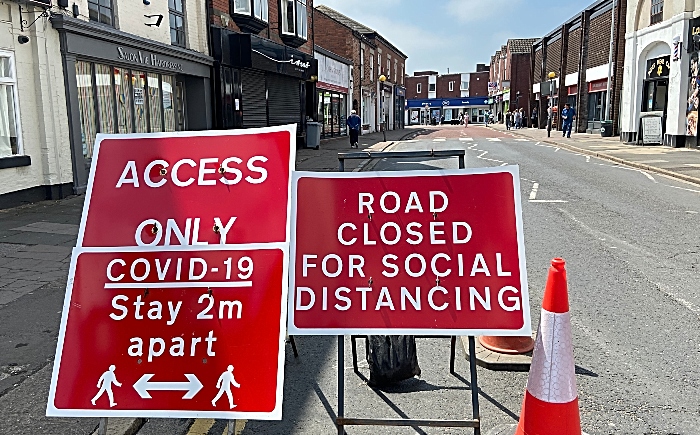 Beam Street in Nantwich is to reopen to traffic from July 4, Cheshire East Council has confirmed.
But Pillory Street and Hospital Street will remain closed amid measures to help shoppers socially distance.
Love Lane, Church Lane and Church lane car park will also remain closed.
The temporary road closures were brought in on June 15, with Beam Street closed between Manor Road and Waterlode traffic lights.
But they have sparked controversy with some feeling too many motorists have ignored the closures, as road barriers have not been in place.
Others felt the closures were unnecessary, and causing a hindrance to residents and business owners trying to gain access.
A CEC spokesperson said: "A number of measures are being amended ahead of the government restrictions easing. Beam Street will be open, Hospital Street remains closed."
Other temporary measures brought in included:
– social distancing awareness signs at bus and rail stations and at bus stops
– signs and pavement markings to raise awareness of the need to social distance
– increased pedestrian or cycle access in some town centres through adjustments to traffic restrictions
– temporary closure of a small number of town centre car parks
– temporary suspension of some parking spaces and laybys, where these can provide extra space for widening footpaths to help pedestrians respect social distancing rules.
Cheshire East added: "Whilst we cannot guarantee that the public adheres to guidance on social distancing, we are keen to help both residents and business communities come out of lockdown safely, ensuring that public health is protected.
"Our priority is to protect people and our local businesses.
"We believe it is necessary to act in areas where footpath are narrow, footfall is high and shops have limited internal space. In these areas, we expect greater need for queuing on street when shops re-open.
"We have decided to close roads to traffic to make more space for pedestrians and shoppers to ensure that safe social-distancing is possible.
"The temporary measures will be under constant review once implemented and may be further tailored to meet local circumstances, with the option to remove completely should that be deemed appropriate."
More details are available on the Cheshire East Council website, including updates on temporary measures in both Audlem, Crewe and other towns.
(Image, top, by Jonathan White, and below courtesy of Cheshire East Council)