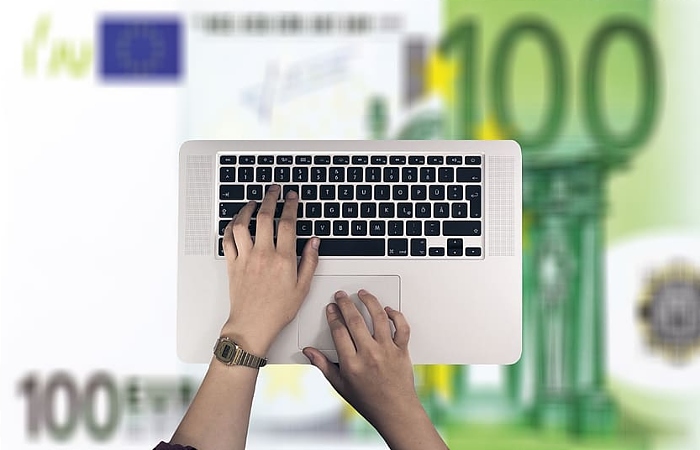 Today, just about anyone who wants to set up an online business can do so.
That doesn't mean every business will be a resounding success — but even a personal blog can generate a little bit of spare income, done properly.
That said, it does take a fair amount of work to get it right.
We posted five ways to grow a business online earlier this year, including the use of Google Ads, SEO, a focus on mobile users, and much more.
These are excellent strategic growth tips for an online website.
However, to some extent, they also depend on funding.
Whether you need to pay for help with design or outreach, offset hosting fees, or simply justify the time you spend on the endeavour, you're likely to need to come up with some cash at some point.
So we gave some thought to a few ways in which aspiring online entrepreneurs might be able to raise funds with relatively little effort.
1. Crowdfunding
Crowdfunding still comes across as a fairly modern, relatively new way to raise funds for business ventures. But don't let that make you think that it isn't common.
In fact, it's now an exceptionally popular method, with some estimates suggesting the crowdfunding industry will grow to $300 billion by the year 2025.
In other words, crowdfunding is not an obscure method, but rather a means by which innumerable businesses have gotten themselves off the ground.
It can work in a number of different ways, including most notably via several websites designed to help businesses gather funds from the public.
One tip we'd include for a web-based project specifically is that if you do go the crowdfunding route, you might want to take it to social media.
By finding social communities relevant to the online business you're creating, you can expose yourself to people who might be more likely to fund you.
Explain your business idea, your passion for it, and what it might offer, and people may be happy to chip in.
2. Savings Accounts
If you're concerned about funding your online business but you don't need a quick or large influx of cash, it might be a good idea to open up a savings account — today.
Granted, the average savings account yields relatively little return.
But there are some different structures to these kinds of accounts that can pay out a little bit more depending on various conditions.
By putting a little bit of money into an account or two like this as quickly as possible, you begin the process of accumulating interest.
This will add up over time such that when you ultimately withdraw the appreciated funds, you'll be able to reimburse yourself for some of your online business-related expenses.
3. CFD Trades
We could recommend various types of financial investment that, with some risk, could yield funds for a business.
Most of them, however, demand a fair amount of time and focus in and of themselves, essentially making them business ventures of their own.
It's generally difficult for someone launching an online business to justify the time and focus it takes to become a profitable investor on the side.
CFD trading is one option worth considering though.
This is a method that provides access to stock markets around the world, but which doesn't demand that traders constantly follow positions in order to profit.
Instead, traders make investments reflecting whether they think stocks will go up or down over a period of time.
There is of course still research and informed decision-making involved, but there is less management of ongoing investments required.
Additionally, CFD trading allows for control mechanisms for profits and losses, such that traders can set their own parameters to minimise risk and capitalise on reward.
Ultimately, it's still something that should be done with care, but it can be a way to generate some funding for an online business.
4. Business Credit Cards
Here, we can't get into too much detail because the credit cards available to you will depend on your own personal financial factors — as well as, potentially, the nature or setup of your business.
Generally though, a business credit card can be another good option for those looking to fund ongoing efforts in launching websites or online companies.
A low-interest card with a favourable APR can allow you to cover expenses when you need to and pay them off more gradually, without worrying about significant interest accruing.
5. Family & Friends
You can always consider turning to family and friends for some funding assistance as well.
This is not something a lot of people necessarily want to do, but it's actually quite a common step for entrepreneurs.
And particularly if you aren't asking for much, you may well have some family members or friends who are more than happy to help, if they have the means.
Furthermore, this doesn't have to be a casual arrangement.
In other words, you don't need to simply ask for an informal favour.
Instead, you can work out a businesslike borrowing arrangement, such that everything is in writing and there's a plan to pay the friend or family member back.
Even if you're lucky enough to have people in your life who want to chip in without expecting any return, a more formal arrangement of this nature may help to make everyone more comfortable.
And in the end, you'll have a little bit more cash on hand to meet your business' needs.