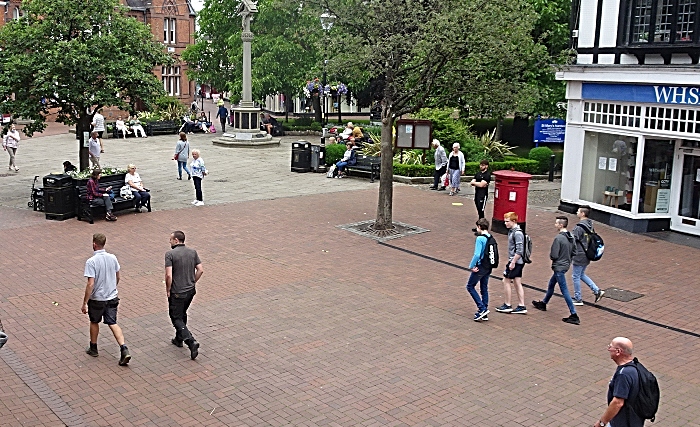 Town councillors are to consider launching a "Nantwich Buddies" scheme to help visitors and shoppers in the town centre.
The idea, based on existing schemes in nearby Chester and other towns, would see volunteers in high-vis jackets around the town acting as helpers and advisors.
They would be on hand to assist with parking payment issues that many have had recently.
Their role would also include providing directions to visitors not familiar with the town, and assisting vulnerable and elderly people.
Cllr Peter Groves told Nantwich Town Council the idea was formed by people who have acted as "street ambassadors" during the pandemic lockdown.
He said: "These volunteers came forward during lockdown wanting to support hundreds of vulnerable residents with shopping, collecting medication, and providing emotional support.
"These "Buddies" would help people negotiate the parking situation we have, identify toilets they can use, and generally offer a friendly welcome.
"We're getting a lot of feedback from residents and visitors that they are struggling to pay for parking, for example.
"It will also fill visitors with confidence and encourage them to return to Nantwich in future.
"Having a 'Buddy' system would enable people to get support and help to tourists and show we are doing something to keep Nantwich as an attractive market town to visit."
Cllr Carole Thomas disagreed with the idea, saying it was impractical to have volunteers based at every car park ticket machine.
"I'm totally against it," she added.
But others supported the idea, with Cllr John Statham saying a similar scheme called "Street Champions" in Chester has been a success.
"We do have a lot of visitors, and I think this is a really good idea and we have people happy to volunteer their own time for no personal gain to help people and the community.
"We should be seen to be supporting these ideas."
Councillors agreed to budget £500 grant for the Nantwich Buddies scheme to purchase high-vis jackets, ID lanyards and maps for the scheme.
(Town centre image courtesy of Jonathan White)