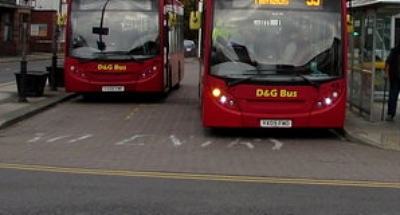 Parents have scored a major victory in a battle to restore bus services for sixth form students in Audlem travelling to schools in Nantwich.
Our story earlier this week and parental pressure on Cheshire East Council has prompted swift action after we revealed up to 30 post-16 students were left stranded with no way to get to school.
School services were not being provided for sixth students by Cheshire East Council, and at same time the authority allowed D&G to block sixth form students from using its public 73 and 61 services.
But after we exposed the issue on Tuesday this week, authorities have been forced to make swift changes to allow sixth formers back on the 61 service.
And an additional smaller 61 Burland coach will follow to pick up students if the original is full.
One parent told us: "Just to say thank you so much for your help.
"There is still a bit of confusion, but we've had some emails from school and CE school transport and we have bus service for the 6th formers!"
Another mum who originally flagged the issue to us, added: "That's the news that's been trickling through from school and the bus company so that's brilliant. Thanks so much to Nantwich News for facilitating it. I'm so relieved.
"I'm just gearing up to tackle the cost issue next especially as no passes are available."
If the service remains for the whole academic year, sixth form parents in the Audlem area will pay around £3 a day, which is £570 a year.
David Cole, headteacher at Brine Leas School, said: "This really is good news. We thank Nantwich News for looking at both sides of this story.
"Please remember that while we are working with the Local Authority to support our students, we are not in control of them and in the event of a query you must contact them via their service provider, Transport Service Solutions."
Chris Almond, Bus network manager at D&G Buses, said: "Cheshire East Council have moved some of the students allocated to our services to free up spaces so we can allow fare payers to travel.
"The fares are £1.50 per journey for under 18's and £1.70 per journey for 18's and over – fares can be paid on the bus using either contactless or cash."
Councillor Kathryn Flavell, Cheshire East Council cabinet member for children and families, said: "The council has responded proactively and swiftly to set up school transport for September, responding to guidance only received in August from the Department for Education and Department for Transport, in order to ensure that all children in the borough who require to travel to school by bus, are able to do so from the start of their autumn term.
"It has been our priority to make sure that pupils' journeys to and from school are as safe as possible.
"We took steps in the summer to assess how many children in the borough would be travelling to school by public transport or dedicated school bus services from September, including children who would purchase a seat on a commercial service.
"Working with the council's public transport company, Transport Service Solutions (TSS), we have organised statutory school transport for more than 3,500 eligible children and made alternative arrangements for up to 400 other children, who were identified following the completion of a survey issued to parents via their schools.
"This included the provision of 12 additional services across the borough to ensure children travel by school bus in a safe manner, meeting Covid-19 guidance. In most areas of the borough there has been an under-use of school transport reported.
"However, there has been an unexpected increase in demand from Audlem, where additional buses were needed to transport children travelling by bus to Brine Leas School, in Nantwich.
"Based on the information we received we would have provided transport for 65 students but, in fact, provided sufficient places for 85. However, that has now been increased further to 105.
"Many of these young people are not eligible for free home to school transport so the local authority does not hold their details, nor does it have a statutory duty to provide transport. Some changes were made by commercial operators to their provision, which has impacted on the places available.
"Additional provision has now been met following discussions with the two bus operators for that area.
"The number and size of school buses has been increased to enable fare-paying students to access transport arranged for students only, as required by Covid-19 guidance."
Parents seeking information about home to school transport during the pandemic can visit our website:
www.cheshireeast.gov.uk/public_transport/school_transport/school_transport.aspx
Route 61 changes:
D&G 61 – Buerton – Audlem – Brine Leas School
Longhill, Windmill Lane (0815)
Buerton, Festival Avenue (0817)
Chapel End, Crossroads (0819)
Audlem, Square (0822)
Hankelow, White Lion (0827)
Brine Leas School (0840)
D&G 61 – Brine Leas School – Audlem – Buerton
Brine Leas School (1520)
Hankelow, White Lion (1530)
Audlem, Square (1535)
Chapel End, Crossroads (1538)
Buerton, Festival Avenue (1540)
Longhill, Windmill Lane (1542)
Apart from the times, the students also need to wait on the opposite side of the road at Longhill, Buerton and Chapel End. As this is a service bus, students can pay to use the service and the current prices are, single £1.50 for under 18's and £1.70 for 18's and over.
Burland Coaches – Route 61
The smaller additional vehicle will continue to follow the 53-seater in the mornings in case that one becomes full.
Audlem – Brine Leas School
Audlem Square, St James Church (0817)
Cheshire Street, Emberton Place (0819)
Hankelow, White Lion (0830)
Brine Leas School (0835)
Brine Leas School – Audlem
Brine Leas School (1520)
Hankelow, White Lion (1530)
Cheshire Street, Emberton Place (1535)
Audlem Square, St James Church (1537)
(D&G bus in Nantwich – pic by Jaggery creative commons licence)