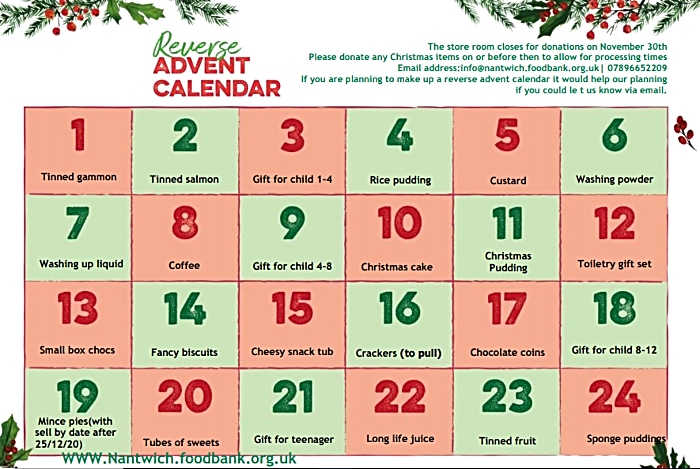 Nantwich Food Festival volunteers are urging residents to support Nantwich Foodbank this Christmas to ensure no one goes hungry in the community.
A Christmas donation "drop-off" is being organised for November 28 at Brine Leas School.
And to help boost supplies, the Foodbank is asking locals to create a "Reverse Advent Calendar" and collect one of the much-needed items each day in November.
This will help the charity put together much-needed food parcels in time for Christmas.
Jane Emery, Nantwich Foodbank manager, said: "Christmas will be a worry for us this year as due to Coronavirus restrictions we will not be able to collect what is needed in the same way as we usually do.
"Many people don't realise that 1 in 5 of the population lives below the poverty line."
You can drop off all your November donations at Brine Leas School on November 28 between 10am-1pm.
Nantwich Food Festival volunteers will be running the "Drop-Off & Go" Collection day.
The Foodbank is unable to accept: Dairy, meat or fish, fruit or vegetables, items that require refrigeration, half used/open packets, anything past its best before/use by date, anything alcoholic, bleach.
Anyone wanting to donate money, can do so via the Foodbank website https://nantwich.foodbank.org.uk/
A Food Festival spokeswoman said: "Residents from Nantwich and those from the surrounding areas are renowned for their generosity, so it will be great to see what we can do together for those in need."