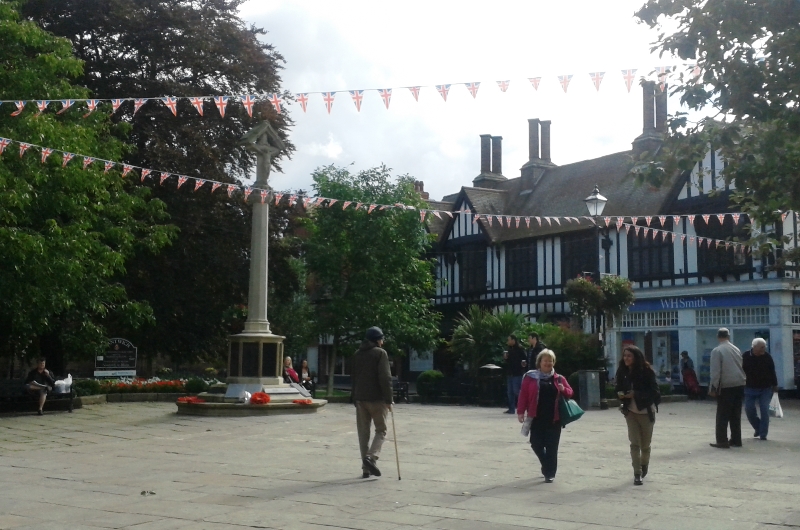 Councillors could be forced to remove town centre benches in Nantwich amid fears too many people are not following Covid lockdown guidelines.
The concerns were discussed tonight (January 14) by Nantwich Town Council, after residents and traders raised fears about lack of social distancing.
There have been reports of "hundreds" of people in the town square on some days, with benches often a hub for people gathering together.
Councillors discussed a number of plans, including removing all the benches completely.
But they said local police objected to this, as did some councillors.
Town clerk Samantha Roberts said: "Residents and traders are concerned at the lack of social distancing, and that benches can be cause of this.
"Police said they will be increasing their visibility in the town centre, but officers did not support the removal of benches and said it could even exacerbate the problems."
Health Secretary Matt Hancock recently clarified guidance, saying walking into town to buy a coffee and hanging around to drink it is not permitted under current national lockdown measures.
Councillors agreed that more warning signs were needed on and around benches in the town square.
Cllr Andrew Martin said: "I support the retention of benches but with warning signs.
"There are many older people in the town who need the benches to sit down. We don't want to completely remove them."
Cllr Arthur Moran added: "We have to be seen to be doing something. I've had numerous emails about concerns.
"On some occasions there were hundreds of people on the square, not just on benches but sitting on TSB steps, around the War Memorial.
"We're in a lockdown. You can exercise, shop for food, go to medical appointments – not to go in for a coffee and to gather and chat."
Cllr Stuart Bostock said: "If we do have to remove the benches, maybe we can remove some initially and see if that helps.
"You walk across the town square at 2pm on Saturday afternoon and it's like a beer garden!
"I saw about 18 people gathered around three benches, including cyclists, just talking to people. It will be nice to see the police turn up for a change."
Cllr Stephanie Wedgwood said: "There also has to be an onus on public responsibility here.
"Signs are good but we need them to realise we are thinking about their health and put the onus on them to do the right thing."
Ms Roberts added: "The local police have been very responsive to our concerns."
Councillors agreed to install some warning signs on and around benches to begin with, and if problems persist will look to remove some benches.
(Library image for display only, taken before Covid lockdown)