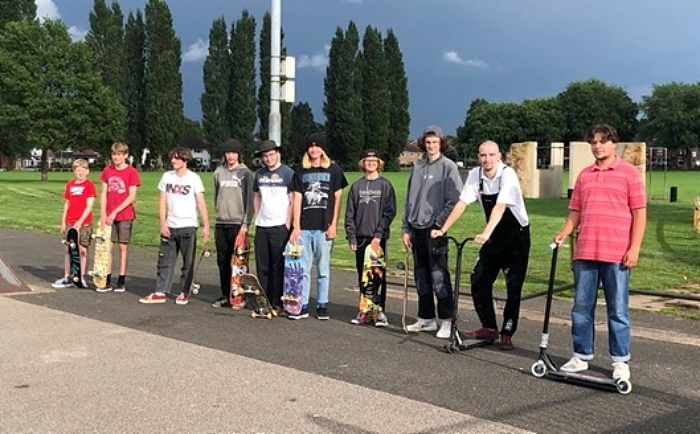 Youngsters in Nantwich fighting for swifter action to install a new Barony skatepark have been backed by MP Dr Kieran Mullan.
The skate park was dismantled several months ago by Cheshire East Council due to "safety concerns" but the authority has not announced when it will be replaced.
The park is used by many teenagers using skateboards and bikes, and residents have called for a replacement as soon as possible.
Crewe and Nantwich MP Dr Mullan said he is supporting the campaign and has called for a meeting between the campaign group and Cheshire East to discuss the redevelopment.
Last year, Nantwich resident Alex Donlon asked to meet with Kieran to get his support (pictured, before lockdown).
Alex said: "The skatepark was built on waste ground and the surface resembles something more like gravel than smooth concrete.
"I know people would love to have a smooth surface skate park.
"Otherwise, you just can't skate properly and with all the cracks in the surface it isn't safe.
"And because the ramps are metal ramps with parts all bolted together, they got very hot in the heat and have screws coming out.
"I am not surprised the council closed it. Some of the jagged bits of metal jutting up are really sharp.
"People that go to skateparks are used to cuts and scrapes, but we need to at least have something that is in decent condition.
"I know lots of people like me actually travel to places like Market Drayton, Leek or Chester.
"I think it would be good for the town to have somewhere here and we could keep people in the town."
Dr Mullan added: "The Barony skatepark was not fit for purpose and there has been a lot of uncertainty surrounding the future of the skatepark.
"The fact so many young people have got behind Alex and what he wants to achieve shows how important the skatepark is to the local young people and the urgent need for its redevelopment.
"It is so important for young people to have access local facilities that get them being active and doing something constructive.
"Skateparks are a great way to build a sense of community and with the right design actually discourage anti-social activities.
"I hope that Cheshire East realise the importance of the skatepark to young people in the area and meet with this group to discuss redevelopment plans.
"I'd also encourage anyone else who wants to support them to get in touch."
Councillor Mick Warren, Cheshire East Council cabinet member for communities, said: "Following our decision to close the skatepark last October on safety grounds, we have taken immediate steps to commission our contractor to draw up plans for a new facility.
"Current pandemic restrictions and weather permitting, our contractor will visit the park imminently to carry out an initial assessment of the site. This visit was to have taken place in December but the new lockdown prevented this from going ahead.
"Initial plans for the new skatepark will be shared with the user group, Nantwich Town Council and Everybody Sport and Recreation, the borough's leisure trust, to invite feedback on the design.
"We will then explore funding options for the new facility.
"Dr Mullan has contacted the council for an update on progress and we have responded accordingly."
(Pic: Alex Donlon (second from left) with young people calling for Barony Skatepark to be redeveloped prior to its recent closure)