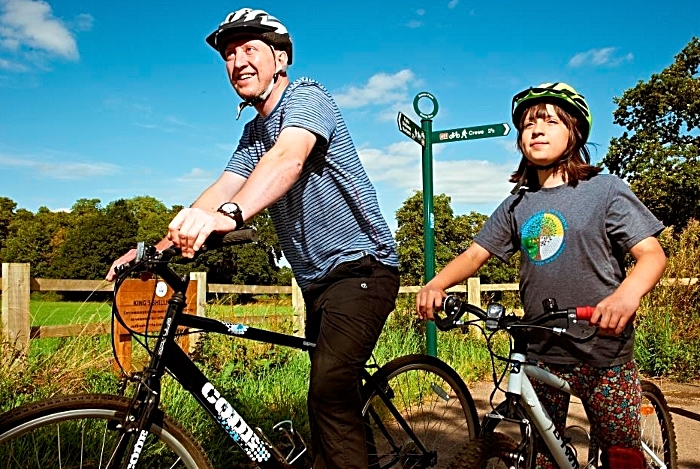 New cycling infrastructure "will enable the most vulnerable people in our society to maintain their independence by providing safety" in Cheshire East, writes Ethan Davies.
That's according to Cllr Suzie Akers Smith, Cheshire East Council's Cycling and Walking Champion.
She spoke as the council seeks residents' views on how the latest portion — known as Tranche 2 — of the government's active travel fund should be used in the borough.
Cllr Akers Smith said: "Cycle paths are not for cyclists, they are for everybody.
"Most competent cyclists will cycle on the road rather than hop on and off a cycle path that does not offer a continuous journey, often lead to nowhere and at the section of the road that is most dangerous, such as junctions and roundabouts, there is no cycle path provision, making the young and vulnerable use the busy roads.
"The proposals for the Tranche 2 Active Travel schemes, once implemented, will enable people to actively travel.
"These suggestions will enable the most vulnerable people in our society to maintain their independence by providing safety.
"Demonstrating support for these measures will help achieve further funding, which will deliver a safer environment for walking and cycling more. For our young children, teenagers, all age ranges, families, wheelchair and mobility aid users and for many people where cycling is easier than walking."
In all, schemes in five locations — Crewe, Congleton, Wilmslow/Handforth, Macclesfield, and Tytherington — are being consulted on.
The council has received £588,000 from the Department for Transport in its Tranche 2 bib, following £155,000 in Tranche 1 last summer.
On the consultation, Cllr Laura Crane, cabinet member for highways and waste, said: "I would encourage more people to engage with the online consultation and take just a few minutes to share their views on the proposals – particularly the Crewe scheme, which has had relatively few responses so far.
"I would emphasise that all of these proposals are subject to consultation.
"We will decide which schemes to deliver when we understand the views of local residents and road-users.
"We will continue to work with our town and parish councils, local communities and stakeholders to develop and refine proposals before anything is built."
Residents can access the consultation online until March 3.