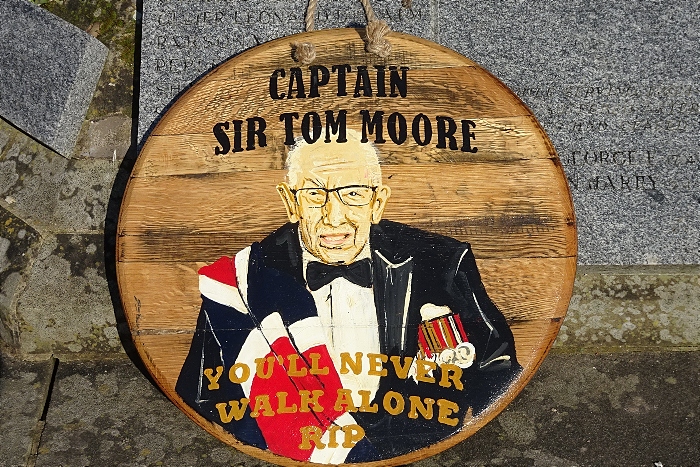 A Nantwich artist has gifted a plaque of Captain Sir Tom Moore to the town, writes Jonathan White.
Tony Denton has produced a plaque painted on wood in memory of the war veteran and fundraiser who died recently aged 100.
Tom raised more than £33 million for NHS charities during lockdown last year.
He was credited with lifting the nation's spirits and his saying "Tomorrow will be a good day" trended on social media.
The plaque features Captain Sir Tom Moore wearing a tuxedo, proudly wearing his medals, and draped in a union flag and contains the text: 'Captain Sir Tom Moore, You'll Never Walk Alone RIP'.
Tony placed the circular plaque at the war memorial on Nantwich town square on the morning of Captain Sir Tom Moore's funeral on Saturday (February 27).
The plaque has now been transferred, with Tony's permission, to the shop window of Nantwich Bookshop & Coffee Lounge on High Street.
It is on display alongside another piece of artwork of Captain Sir Tom Moore, painted onto a piece of slate, that Tony produced last year.
Both pieces will be moved to a location in Nantwich where they can be permanently on display.
Tony said: "Under the circumstances and the lockdown I thought it would be nice to create a piece of artwork for the people of Nantwich, so they can pay their respects for a man who we look up to and who gave us inspiration in these struggling times.
"I hope people find a good place for it in remembrance for a man that should never be forgotten."
For further information relating to Tony and his work, visit: https://www.facebook.com/whiskeylidart
(Images courtesy of Jonathan White)