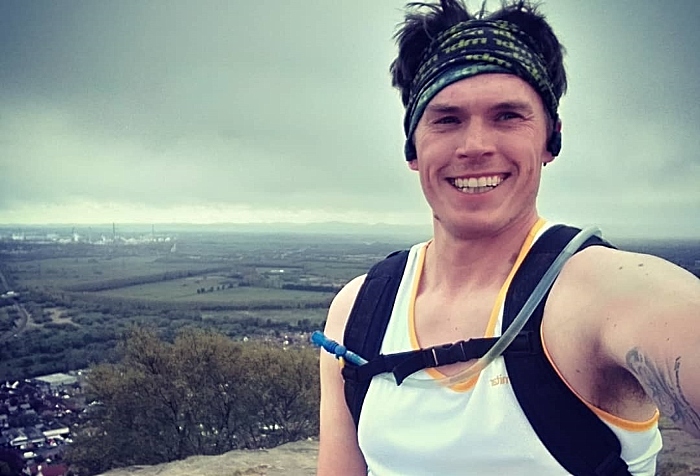 A firefighter from Nantwich is nearing the end of a series of endurance challenges in aid of two worthy causes.
Richard Douglas, Blue Watch Crew Manager in Crewe, vowed to complete seven challenges in a bid to raise at least £1,000 in aid of Tiny Changes mental health charity and Hope House children's hospice.
Dad-if-three Richard has completed five of them and is appealing for a final push of donations as he prepares for the final two.
His final two challenges are a 34-mile Sandstone Trail Ultra Marathon on Saturday August 28, and the MBNA Chester Marathon on Sunday October 3.
Richard said: "I am determined to complete them both and raise at least £1,000 for Tiny Changes and Hope House.
"Tiny Changes is a mental health charity that was set up by the family of Scott Hutchison, the lead singer of Scottish band Frightened Rabbit, after he took his own life at the age of 36 in May 2018.
"I was lucky enough to meet him several times. He was someone I admired, and his music still means a lot to me.
"The charity focuses on children and young people, in the firm belief that it is the right of every child to have good mental health and the opportunity to lead happy and fulfilled lives as adults.
"Hope House is a children's hospice in Oswestry that supports terminally ill children and young people in Cheshire, Shropshire and mid and north Wales.
"It also now has a sister site in Wales.
"Hope House cares for babies, children, young people and young adults who have life-threatening conditions and are not expected to live beyond the age of 25.
"It also offers counselling and bereavement support to any family living in the area who has suffered the death of a child in any circumstance.
"The hospice gave an exceptional level of care to the daughter of a friend of mine.
"I would love nothing more than to raise a substantial amount of money for the charities. Doing the seven tough challenges is a small price to pay for that as far as I'm concerned.
"Any donations will be much appreciated, and will be put to very good use by the charities."
Richard's first five challenges were:
The Mow Cop Killer Mile in April
A Hanchurch Woods 5k trail inNApril
A Helsby Hill 10k trail in April
A cross country half marathon over the Shropshire Hills in May
The Cholmondeley Castle Marathon in June
Anyone willing to make a donation for Richard's series of charity challenges can do so via his JustGiving page here.
You can follow his training progress and challenges on Strava.