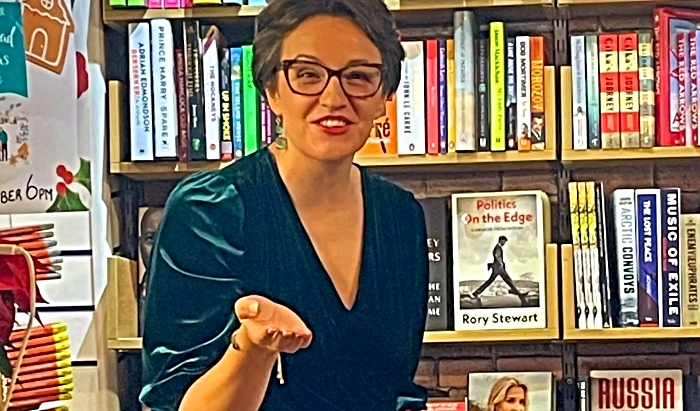 Local author Kiley Dunbar talked about her latest book 'The Gingerbread Christmas Village' at a sold-out evening event at Nantwich Bookshop & Coffee Lounge, writes Jonathan White.
She also spoke about her background, her writing techniques and read extracts from the book.
The event coincided with Nantwich Bookshop & Coffee Lounge celebrating 20 years of business.
Kiley is Scottish and lives locally with her husband, two kids and Amos the Bedlington Terrier.
She writes around her work at a University where she lectures in English Literature and creative writing.
She is a member of the Romantic Novelists' Association and a graduate of their New Writers' Scheme.
Denise Lawson, Nantwich Bookshop & Coffee Lounge, said: "Kiley chatted to the audience about writing Christmas rom-coms and read extracts from her latest publication, The Gingerbread Christmas Village.
"The book is heartwarming and a perfect festive treat."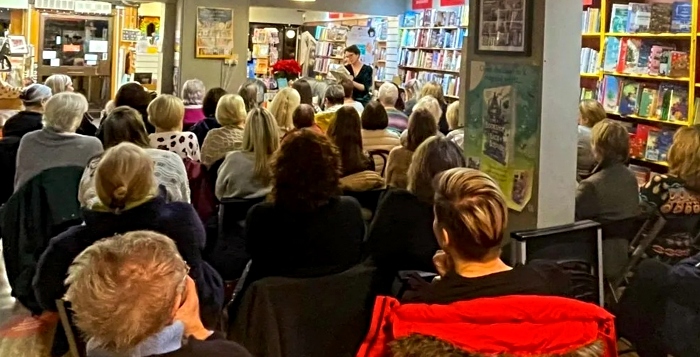 'The Gingerbread Christmas Village' book synopsis: The annual Wheaton gingerbread exhibit (a model village made of gingerbread) and grotto has been an important part of the sleepy Cotswold hamlet's Christmas celebrations for decades.
For years the gingerbread exhibition drew visitors from across the region and each year the model town grew more elaborate and ambitious but recently, interest has been dwindling.
The gingerbread grotto needs to be rehomed or close forever.
Sixty-four-year-old Margi, the event's founder, has had enough of village life (and its total lack of eligible men) and is planning to sell up and head to Birmingham to live closer to her niece.
She has lost her spark and her Christmas spirit and decides this will be her last gingerbread village, but despairs when she finds her only support is her old friend, Izzy, her niece Lucy from Birmingham, and Fern, the shy young farmer's daughter.
To buy 'The Gingerbread Christmas Village' and other books by Kiley Dunbar  visit Nantwich Bookshop & Coffee Lounge in Nantwich, or contact via phone: 01270 611665, email: [email protected]  or visit https://www.nantwichbookshop.co.uk/