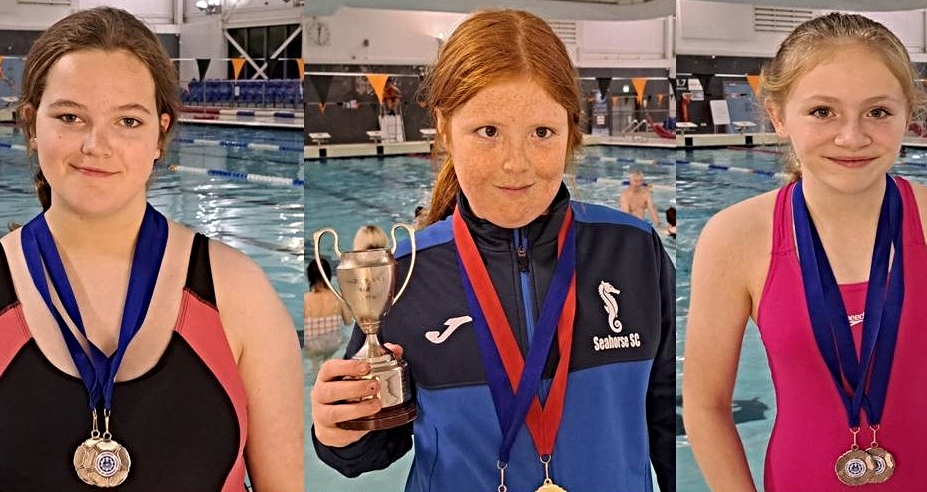 Six swimmers from South Cheshire's Seahorse Swimming Club enjoyed trophy success when they took part in the Halliwick National Championship Gala, writes Jonathan White.
The Seahorse swimmers were part of the North West team who competed in the annual gala against swimmers from South Wales and the South of England, at Southbury Leisure Centre, Enfield, North London.
Seahorse's Eva Yoxall came away with a gold medal as overall winner of the Girl's 25 metre race, and Edward Taylor also won a gold medal in the Boy's 25 metre race.
Other Seahorse swimmers who won medals were: Annabelle Marriott, silver in the Girl's 50 metre race, Heidi Tomkinson, silver in the Girl's 100 metre race, and Ethan Carroll, silver in the Men's 50 metre race.
Annabelle Marriott, Heidi Tomkinson and Eva Yoxall were also triumphant as part of the North West Junior Relay team, who came away as silver medals winners.
Also representing Seahorse was Zac Beeston, who narrowly missed out on a medal in the Men's 25 metre race.
Seahorse SC is based at Crewe's Lifestyle Centre and is affiliated to the Halliwick Association of Swimming Therapy, who has been promoting swimming for people with disabilities for over 70 years.
Vice-Chair at Seahorse Nicole Lawson said: "The swimmers were a credit to our club and the North West region which was reflected in our overall position of just four points behind the winning team, and second overall. We are incredibly proud of them all."
For further information on the club visit www.spanglefish.com/seahorseswimmingclub
(Pic above: Back L – R: Annabelle Marriott, Eva Yoxall and Heidi Tomkinson. Pic below: Front L – R: Zac Beeston, Edward Taylor and Ethan Carroll)